These simple to make semi homemade Apple Cinnamon Rolls are a delicious, perfectly spiced and a filling breakfast, perfect for fall mornings or even Christmas mornings as well. This easy recipe is a twist on the classic cinnamon roll, incorporating the sweet and tart flavors of apples.
Not only do you get to enjoy the sweet, warm aroma of fresh cinnamon rolls baking in your oven, but you also get to savor the satisfaction of making them at home.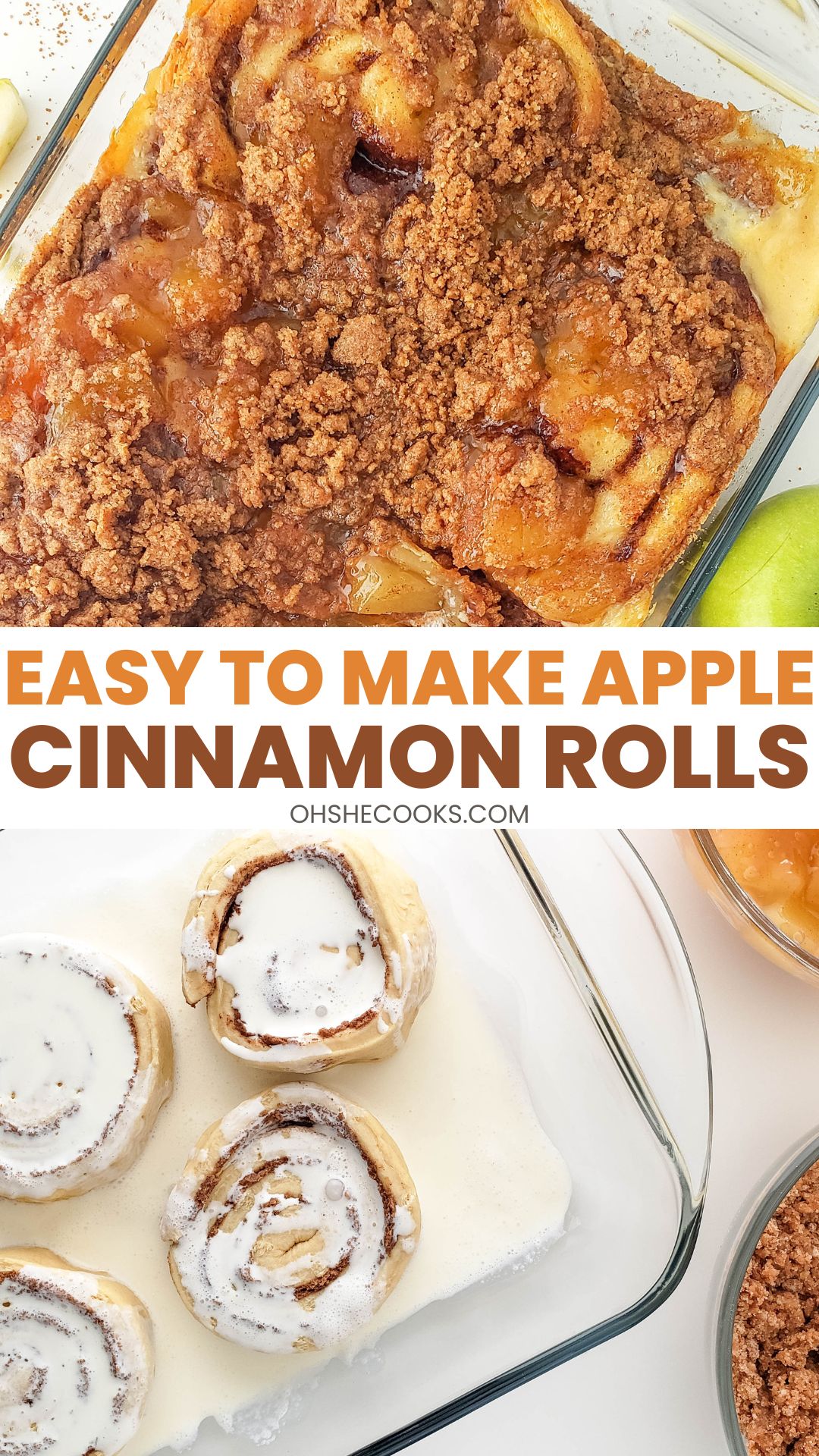 How to Make Apple Cinnamon Rolls
You'll love how easy it is to make semi homemade apple cinnamon rolls with just a few simple to find ingredients. Read on down to learn how to make the best cinnamon rolls ever!
Step 1: You'll need a package of store bought cinnamon roll dough, canned apple pie filling, heavy cream and butter & sugar to make a crumble topping.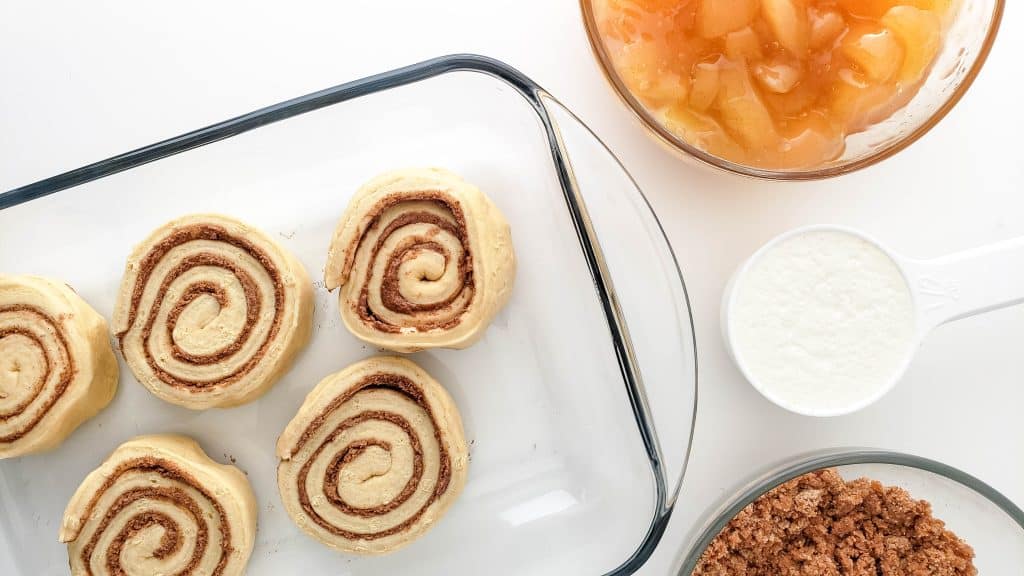 Step 2: To begin making the apple cinnamon rolls, you'll first preheat the oven to 350 F degrees, then open the store bought rolls and place them in a glass baking dish.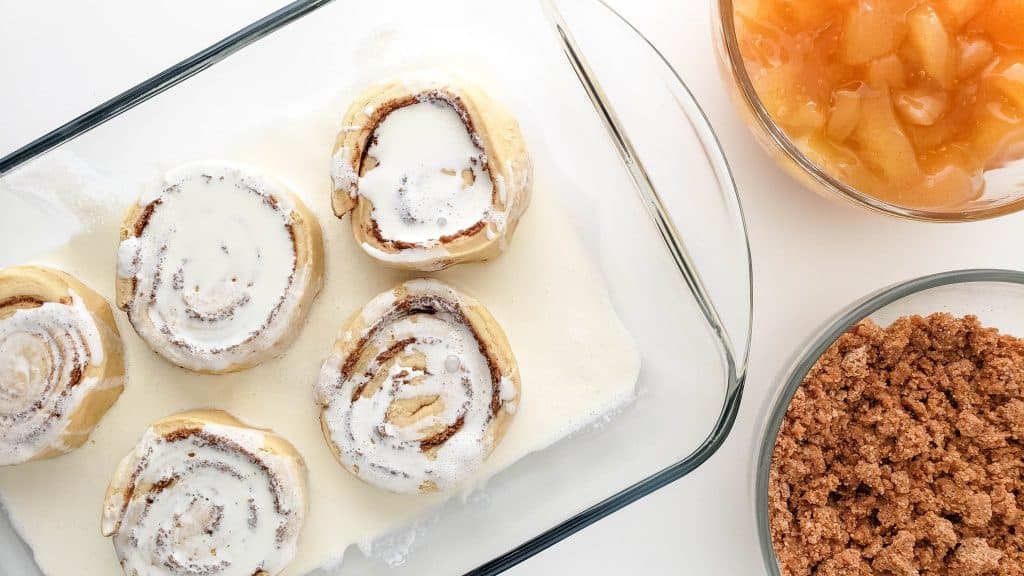 Step 3: The next step is to pour the heavy whipping cream over each cinnamon bun and between the rolls as evenly as possible.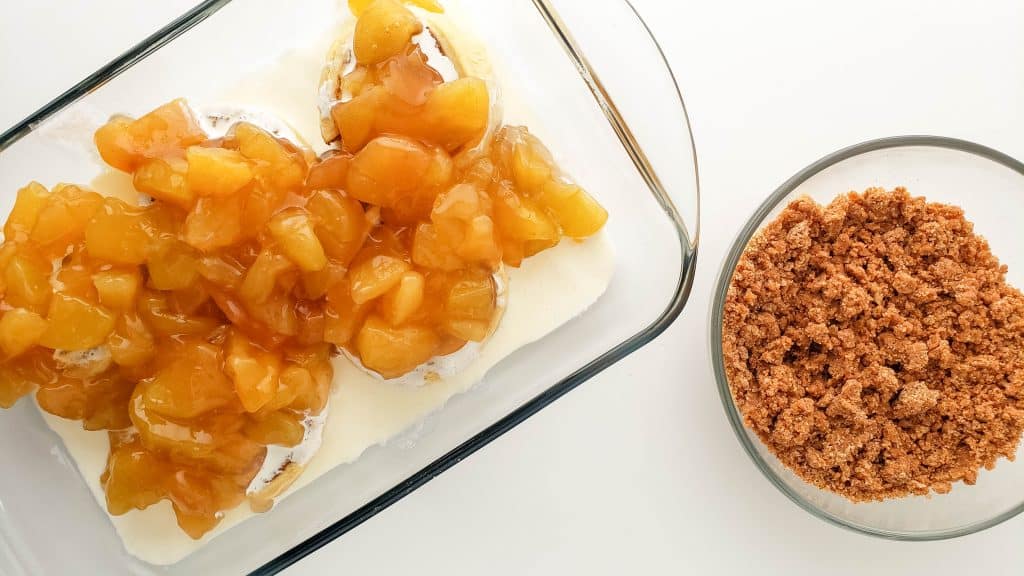 Step 4: Next, spoon the apple pie filling and even sliced granny smith apples if you wish, on the rolls and in between. You may dice up the apples smaller if you wish before spooning them over the rolls.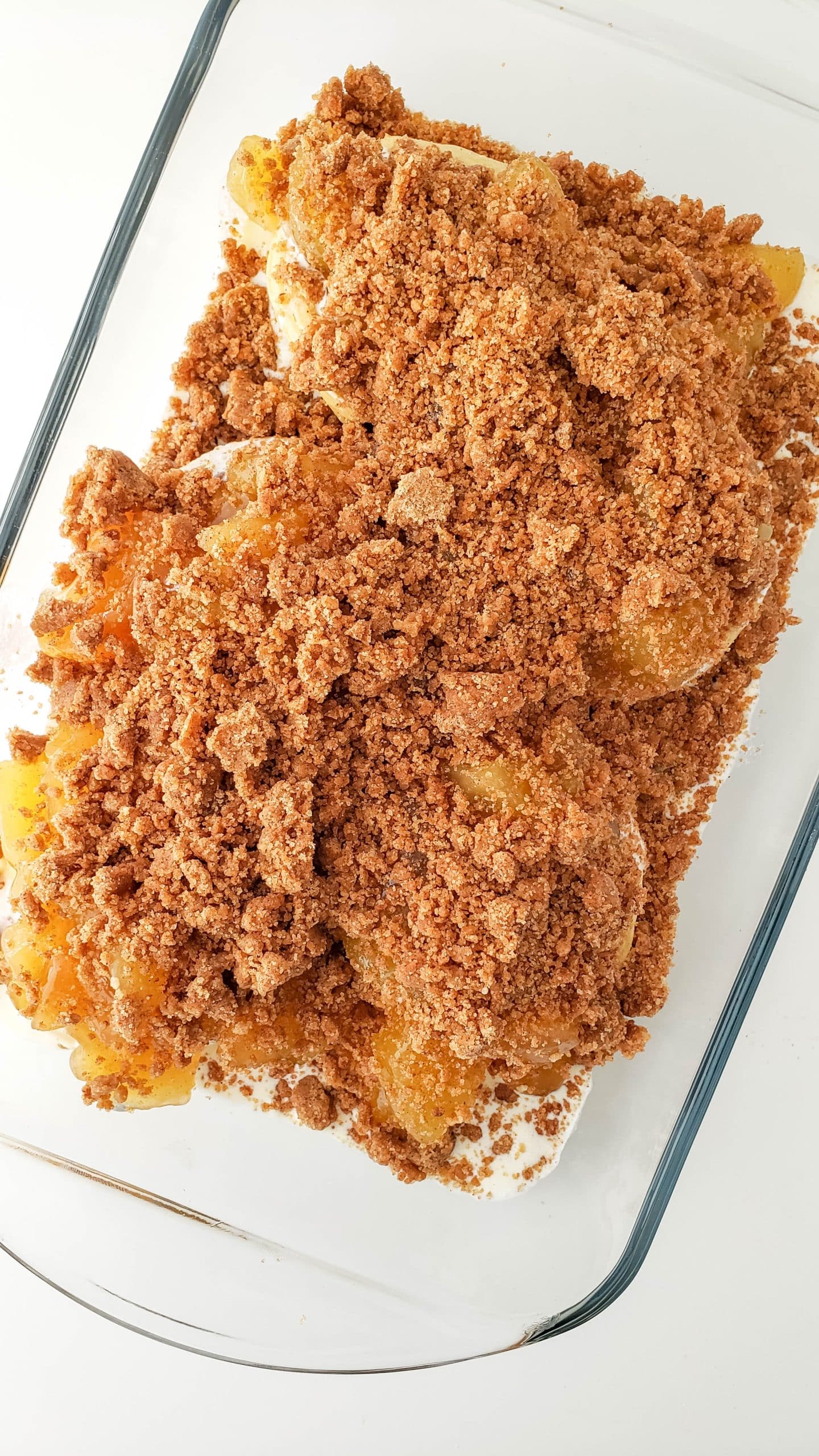 Step 5: Cover evenly with the crumbled topping, making sure to coat the apples and the rolls completely with the crumble to make apple cinnamon buns.
Step 6: Bake these cinnamon apple rolls at 350 degrees for 30 to 35 minutes, or until bubbly. Next, let sit for 20 minutes and enjoy! Serve the warm rolls with a glass of milk and enjoy!
Tip: You can cover with the cream cheese frosting that came with the store bought rolls, or enjoy as is.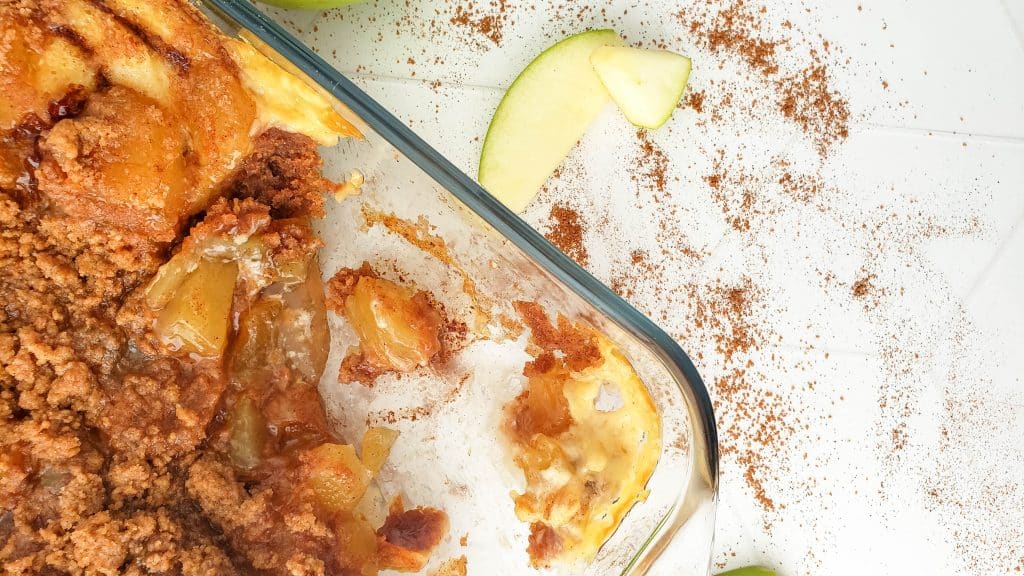 Let's Get Baking
Don't wait to treat yourself to a tasty roll. Our Apple Cinnamon Rolls are perfect for sharing with friends and family, or simply savoring alone.
Learn how to make apple pie cinnamon rolls with Pillsbury cinnamon rolls! Make them today and experience the magic of fall with every bite! I hope you enjoy this easy apple cinnamon roll recipe!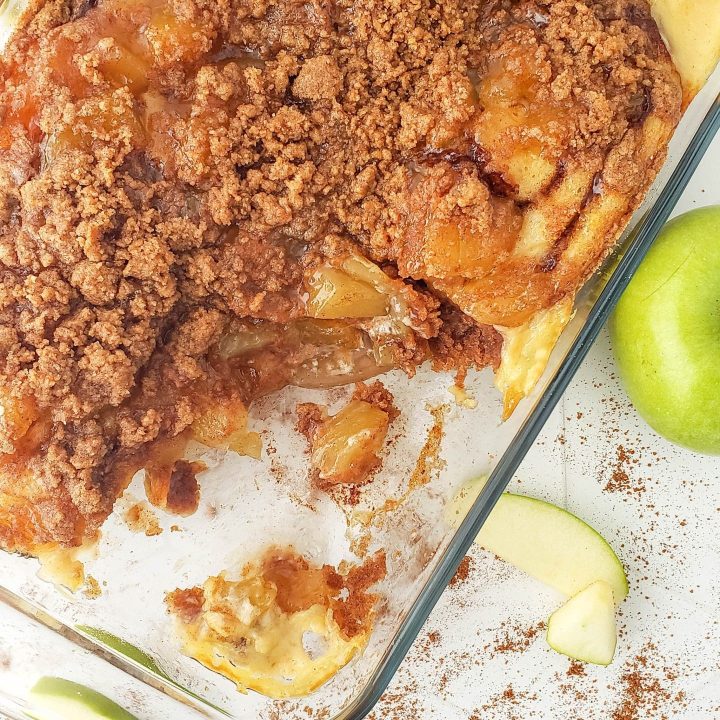 The Best Ever Apple Cinnamon Rolls
Total Time:
1 hour
10 minutes
Apple Cinnamon Rolls are a sweet and cozy breakfast made with store bought dough filled with a mixture of cinnamon and diced apples, making them the perfect treat for an autumn day.
Ingredients
Equipment
9 by 13 or an 8 by 11 Baking Dish or Glass Baking Dish
1 Fork
2 Small Bowls
Cutting Knife
Measuring spoon/cup
Spatula
Ingredients
1 can a Pillsbury Grand Cinnamon Rolls or the Regular 10 count cinnamon rolls
1 can of Apple pie filling (any brand)
1⁄2 cup heavy whipping cream
For the crumble
1⁄2 cup Brown Sugar, dark or light
1⁄2 tablespoon cinnamon
1⁄2 cup all-purpose flour
6 tablespoons unsalted butter
Instructions
In the small bowl, combine the flour the brown sugar, cinnamon, and the butter; Use the fork to mix. Do not over mix, you want to avoid it becoming mushy. Set aside.
In the baking dish, place each roll in no specific arrangement
Pour the heavy whipping cream over each roll and in between the rolls
Next using the knife cut the apples into smaller pieces inside a bowl, then pour over the rolls and in between the rolls just like with the heavy whipping cream
Cover the apples and the rolls with the crumble.
Bake at 350 degrees F for 35 minutes or until rolls are golden brown
Remove from the oven and allow to cool on a cooling rack. Be careful the dish/pan will be piping hot, and the sugar and cream will be bubbly. The bubbles will settle and thicken.
Notes
Gas and electric stoves may bake differently, adjust baking times as needed.
You can top the Apple crumble with the cream cheese icing that came with the biscuits.
Another topping suggestion is caramel and ice cream
Best served warm.
Store in the refrigerator for up to 3 days covered with plastic.
To reheat from the refrigerator, remove the serving(s) you desire and place on a microwave safe dish. Microwave for 15 to 20 seconds
Recommended Products
As an Amazon Associate and member of other affiliate programs, I earn from qualifying purchases.
Common Questions About Apple Cinnamon Rolls
What's the difference between cinnamon rolls and cinnamon buns?
Cinnamon rolls and cinnamon buns are very similar baked goods and the terms are often used interchangeably. However, there are some subtle differences between the two:
Cinnamon rolls are typically made with a yeast-based dough that is rolled out into a thin sheet, spread with a mixture of cinnamon, sugar, and butter, and then rolled up and sliced into individual rounds. The rolls are then baked in a pan, often with a sweet glaze or frosting on top.
Cinnamon buns are also made with a yeast-based dough, but are typically rolled out into a thicker sheet and then spread with a mixture of cinnamon, sugar, and butter. The dough is then rolled up into a log, sliced into individual rounds, and baked in a pan. Cinnamon buns often have a sticky caramel or honey glaze on top instead of a frosting.
Cinnamon rolls tend to be softer and fluffier with a creamy frosting on top, while cinnamon buns are usually denser with a sticky, sweet glaze. However, the exact definitions and recipes can vary depending on the area and the baker.
What does cinnamon on an apple do?
When cinnamon is added to apples, it enhances their natural sweetness and adds a warm, spicy flavor. Cinnamon also contains antioxidants and anti-inflammatory properties, which may provide some health benefits.
Why did my cinnamon rolls turn out hard?
There are a few reasons why cinnamon rolls may turn out hard:
Overbaking: If the cinnamon rolls are baked for too long, they can become dry and hard. Be sure to follow the recipe instructions for the baking time and check the rolls a few minutes before the end of the baking time to ensure they don't overbake.
Underproofing: If the dough is not allowed to rise sufficiently before baking, the rolls can turn out dense and hard. Make sure to give the dough enough time to rise according to the recipe instructions.
Too much flour: If too much flour is added to the dough, it can become stiff and result in hard cinnamon rolls. Be sure to measure the flour correctly and use the amount specified in the recipe.
Incorrect dough consistency: If the dough is too dry, it can result in hard cinnamon rolls. Make sure to follow the recipe instructions carefully and adjust the amount of liquid as needed to achieve the proper dough consistency.
Storing the cinnamon rolls improperly: If the cinnamon rolls are not stored properly after baking, they can become hard. Be sure to store them in an airtight container or tightly wrapped in plastic wrap to help retain moisture.
More Sweet Recipes
If you enjoyed this easy cinnamon roll apple recipe, you may also enjoy some of our other super simple to make sweet treat recipes as well!