8 Top Christmas Dessert Recipes for a Festive Holiday
If you are looking for some easy recipes for semi homemade Christmas treats like cookies, desserts, and snacks to make this year, then you are in luck!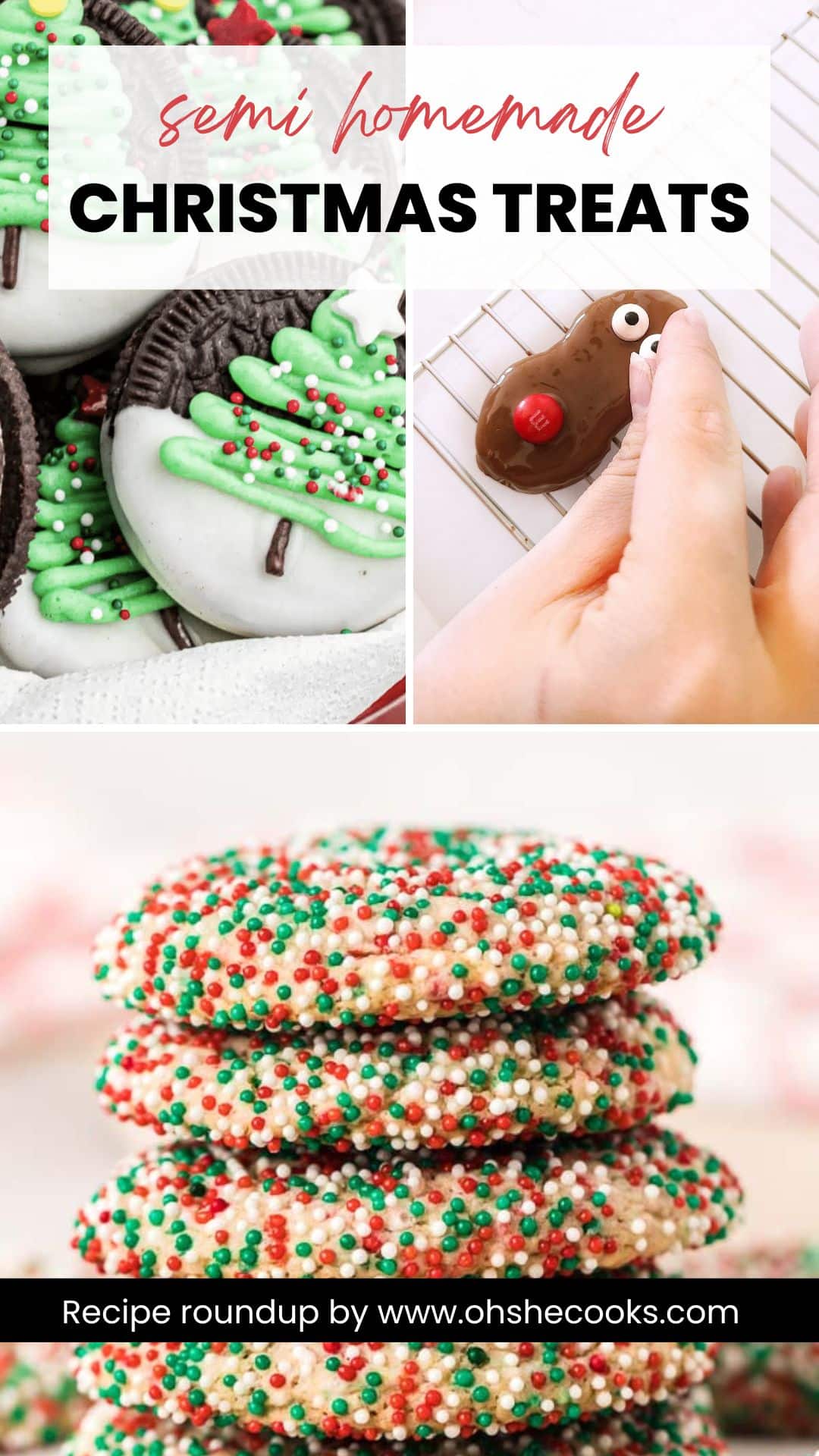 With the hustle and bustle of the holiday season, finding the time to make these types of treats from scratch can be a challenge. That's where these semi-homemade Christmas treats come in.
Below, we'll explore the world of homemade Christmas treats and share some ideas and tips to help you make the most of your holiday baking. So, let's get started and spread some holiday cheer with these easy and delicious recipes!
What are Semi Homemade Christmas Treats?
Semi-homemade Christmas treats are desserts or snacks that use a combination of pre-made and homemade ingredients.
For example, you could use store-bought cake mix to make the base of a cake or cookies, and then add your own homemade frosting or decorations. This allows you to save time and effort while still adding a personal touch to your holiday treats. I know for my family, easy, quick, and semi homemade treats as well as meals are perfect for us!
Types of Semi Homemade Treats for Christmas
Some popular semi-homemade Christmas treats include that you can find online or in recipe books are:
Christmas cookies made with pre-made cookie dough or boxed mixes, but decorated with homemade frosting, sprinkles, or other decorations.
Truffles made with store-bought chocolate or candy melts, but with homemade fillings such as peanut butter, coconut, or mint.
Peppermint bark made with melted chocolate chips or candy melts, but topped with crushed candy canes or peppermint extract.
Chocolate-covered pretzels or nuts made with pre-made chocolate chips or melts, but sprinkled with sea salt, crushed candy canes, or other toppings.
Fruit pies made with pre-made pie crusts, but with homemade fruit fillings and crumble toppings.
As you can see, with a bit of creativity, you can create delicious and festive holiday treats that are easy to make and perfect for sharing during Christmas.
Tips for Making Semi-Homemade Christmas Treats
Here are some tips for making the most of your semi-homemade Christmas treats.
Start with quality pre-made ingredients: Choose pre-made ingredients that are of good quality, such as high-quality chocolate chips or cookie dough. For example, when I made reindeer cookies, I made sure to use quality chocolate, so I knew they would taste great.
Add homemade decorations or fillings: While the base of your treat may be pre-made, you can add homemade decorations or fillings to make it extra special. For example, you can make your own frosting, glaze, or sprinkles to add a personal touch to your pre-made cookies or cupcakes.
Use holiday-themed decorations: Add some holiday cheer to your treats by using holiday-themed decorations, such as red and green sprinkles, candy canes, or edible glitter. This will make your treats look festive and fun.
Don't be afraid to experiment: Semi-homemade Christmas treats are a great opportunity to experiment with different flavors and ingredients. Try adding unexpected ingredients or using unique flavor combinations to create something new and exciting.
Have fun: Remember that the holidays are about enjoying time with loved ones and making memories. Don't stress too much about making the perfect treat – have fun and enjoy the process!
Easy to Make Semi Homemade Christmas Treats
These semi-homemade Christmas treats are perfect for entertaining guests or for enjoying as a special snack during the holiday season.
More Recipes You May Enjoy
Take a look at a few of our favorite easy recipes to make and find a new go to dish to make for your next meal!