Easy Recipe for the Fluffiest Vegan Pancakes
Start your morning off right with this easy recipe for fluffy and delicious six ingredient vegan pancakes! Made with just a few simple ingredients, these pancakes are not only easy to make, but also packed with flavor and nutrition.
Whether you're a vegan, have dietary restrictions, or just looking to switch up your breakfast routine, these fluffy vegan pancakes are the perfect choice. So fire up your griddle, gather your ingredients, and let's get cooking!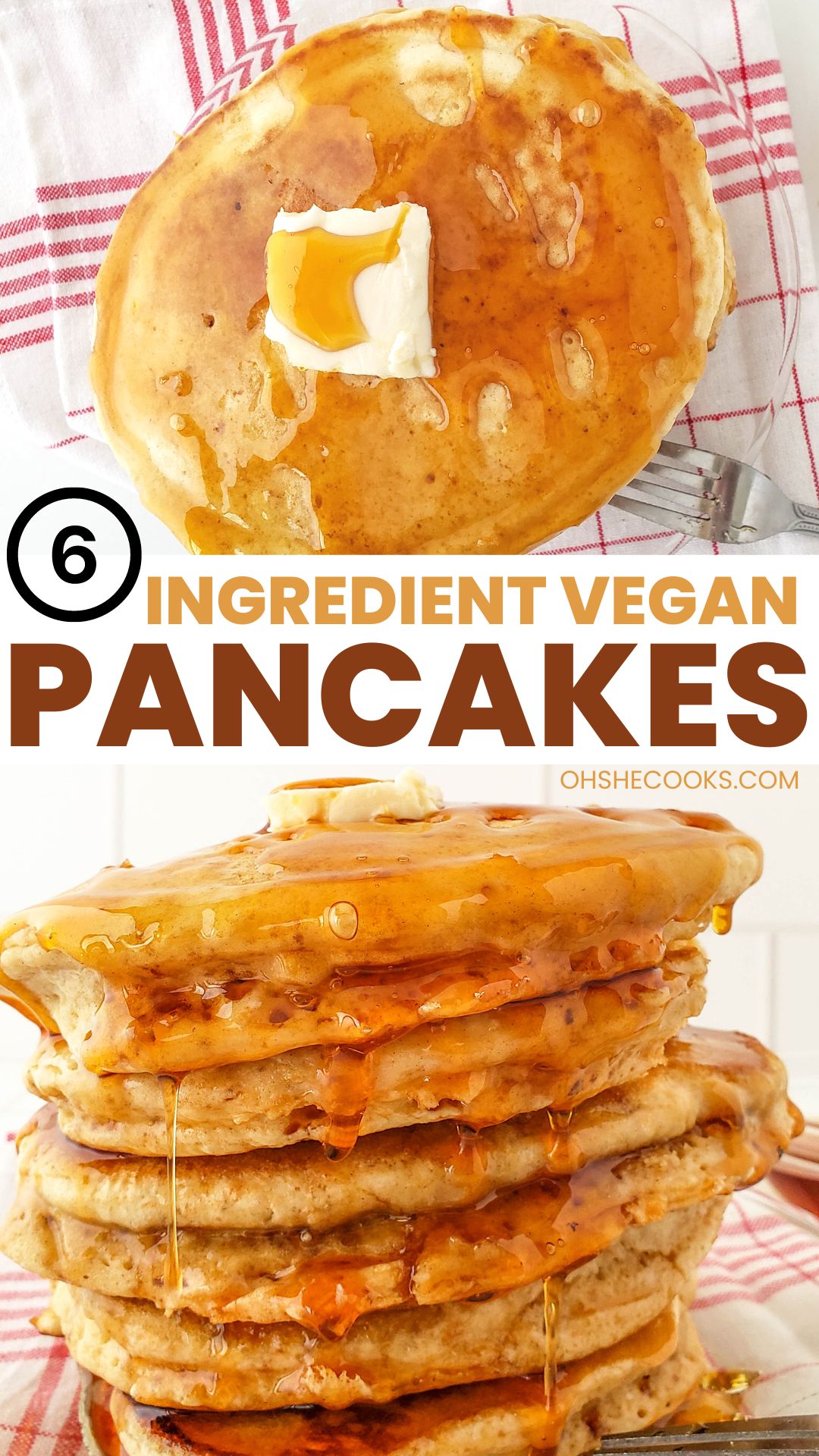 For an extra touch, pair with a fruit (bananas, strawberry or other berries) for an easy and healthy breakfast which is not only tasty but makes for a balanced meal too.
How to Make 6 Ingredient Vegan Pancakes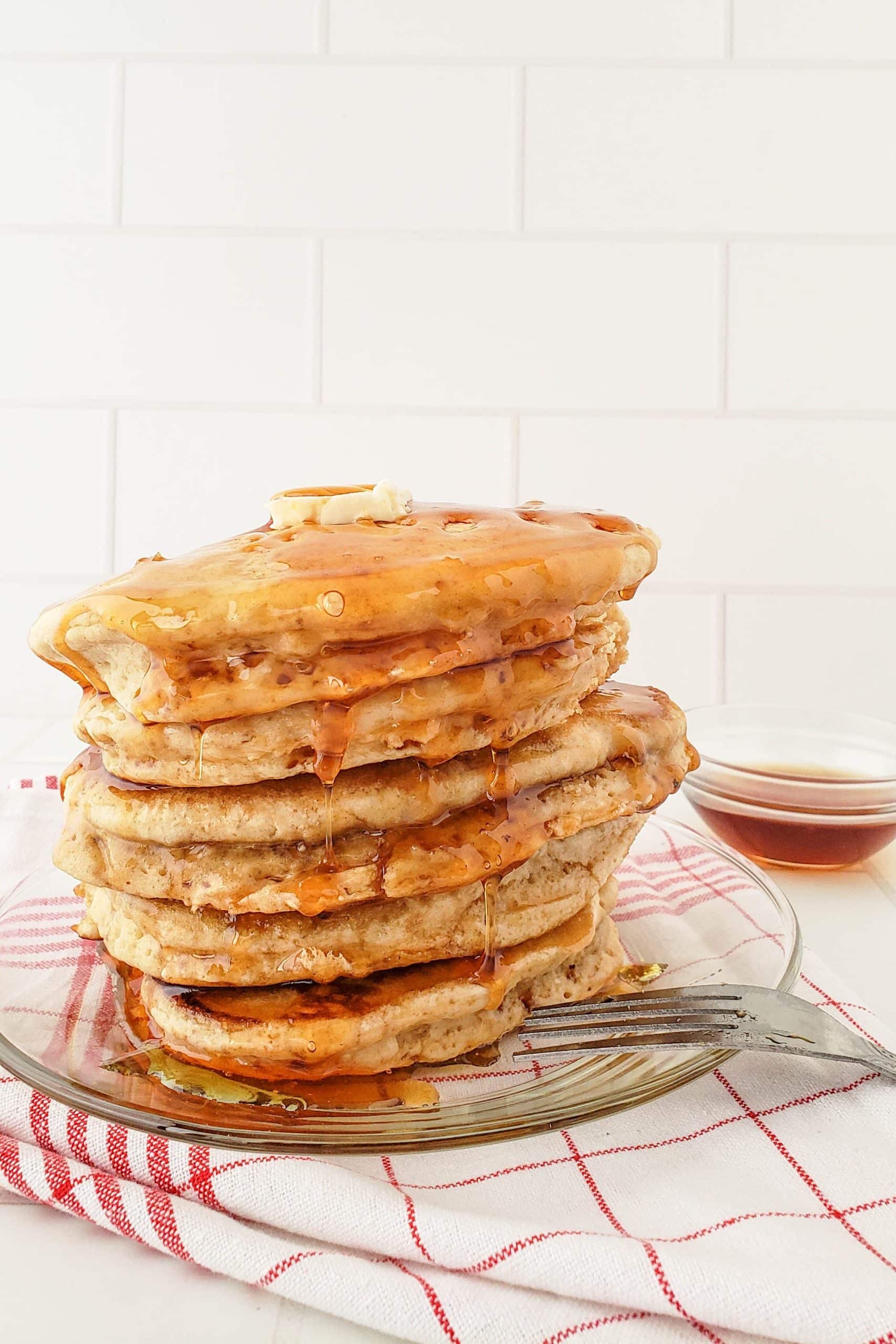 Making the batter for these vegan pancakes is quick and simple. With these simple instructions, you'll have a stack of fluffy and delicious vegan pancakes in no time!
Gather Ingredients
To begin, you'll need to gather your ingredients and set up your workspace. Have a large bowl and a few separate bowls handy as well as a whisk, spatula, measuring cup and spoon, so you'll be ready to mix up the pancake batter.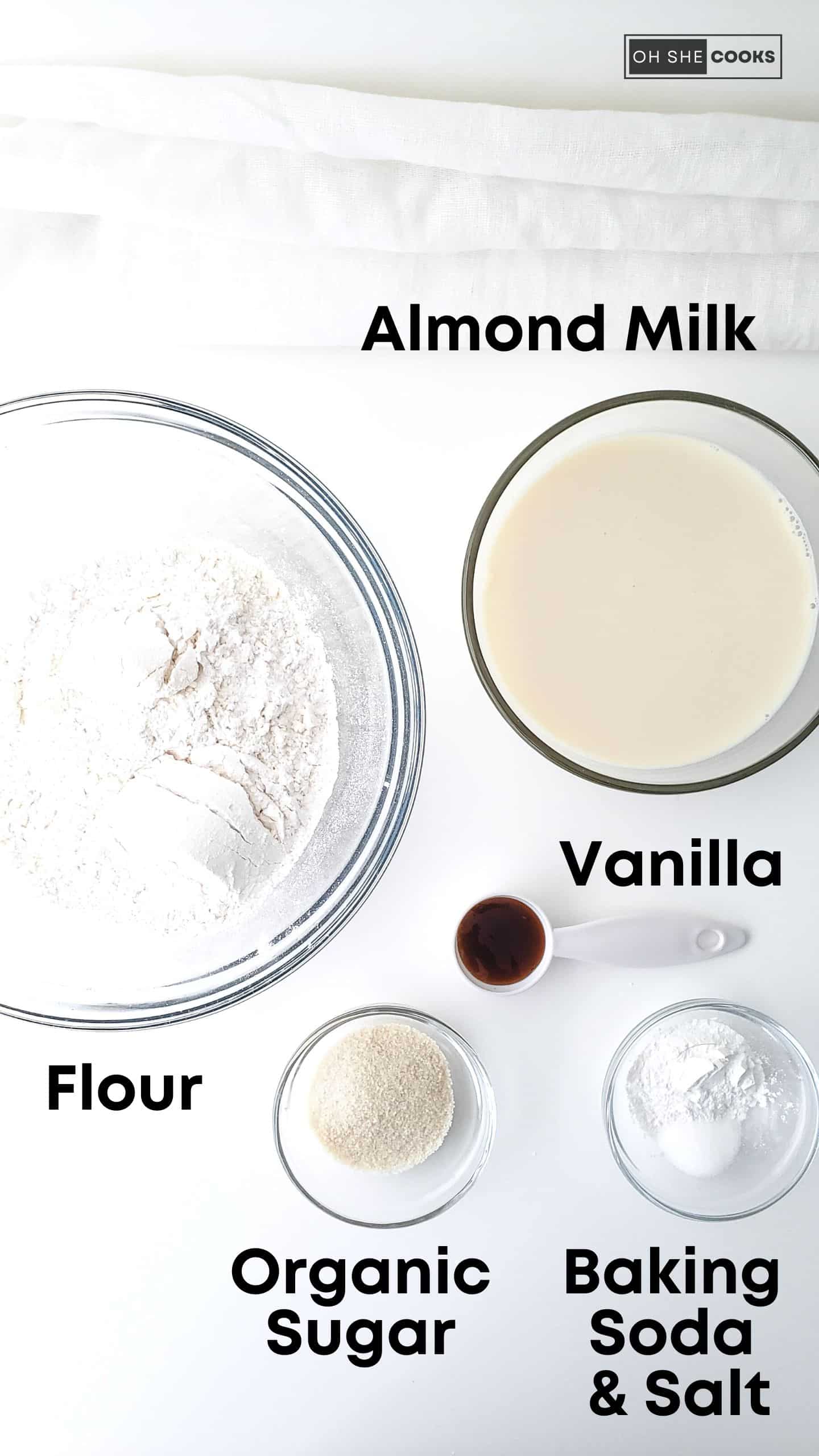 To make these vegan fluffy pancakes, you will need just six basic ingredients; Flour, sugar, vanilla, almond milk (or other non-dairy milk), salt, and baking powder. The ingredient list is slightly different from a regular pancake recipe, but not by much.
Combine Ingredients
Once you have the dry and wet ingredients prepared, it's time to combine them. Mix the ingredients starting with the dry ingredients first (flour, salt, baking soda) then eventually adding the milk and vanilla extract.
The pancake batter will be thick and slightly lumpy, but that's okay. The lumps will disappear as the pancakes cook.
And that's it! With the batter ready, you can now heat your pan or pancake griddle and start cooking your pancakes.
Prepare Pancakes
Pour 1⁄4 cup of batter onto the griddle or pan per pancake. Leaving space when pouring, so they don't touch (a little is ok).
Once the edges start to brown, and the surface of the pancakes form small bubbles, using a pancake flipper, flip the pancake over, checking after 30 seconds for light browning on the bottom.
Enjoy the Pancakes
Next, enjoy your healthy vegan breakfast pancakes. You can serve them with your favorite toppings and enjoy a delicious, plant-based breakfast.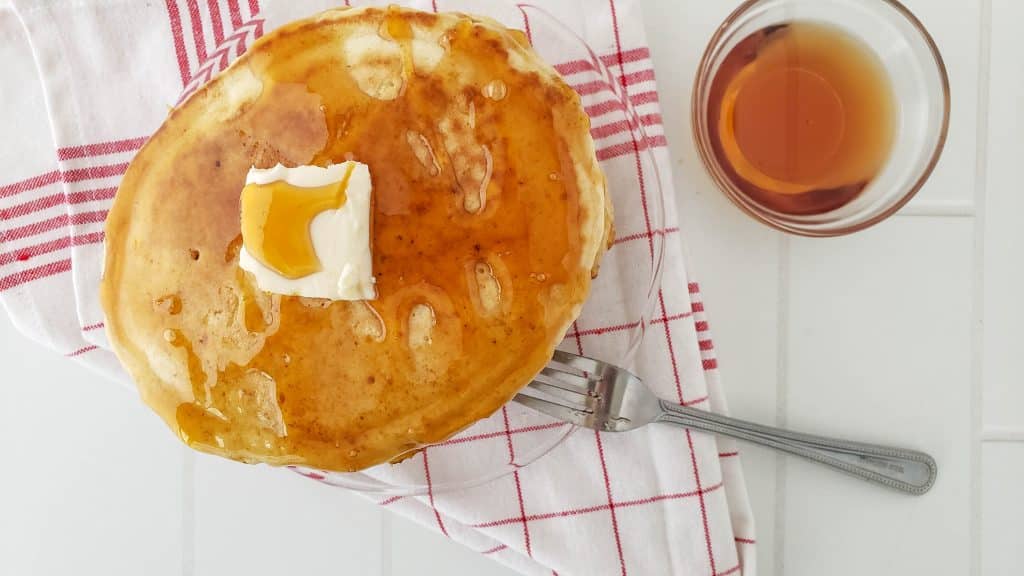 The simplicity and versatility of this recipe make it a great option for busy mornings or when you're short on time, like a weekday breakfast. So give it a try and discover just how easy it can be to make vegan pancakes at home.
Tips for Cooking the Perfect Vegan Pancakes
Use a non-stick pan or griddle to prevent sticking.
Don't overcook the pancakes, or they will become dry and tough.
Experiment with different non-dairy milks to find your favorite.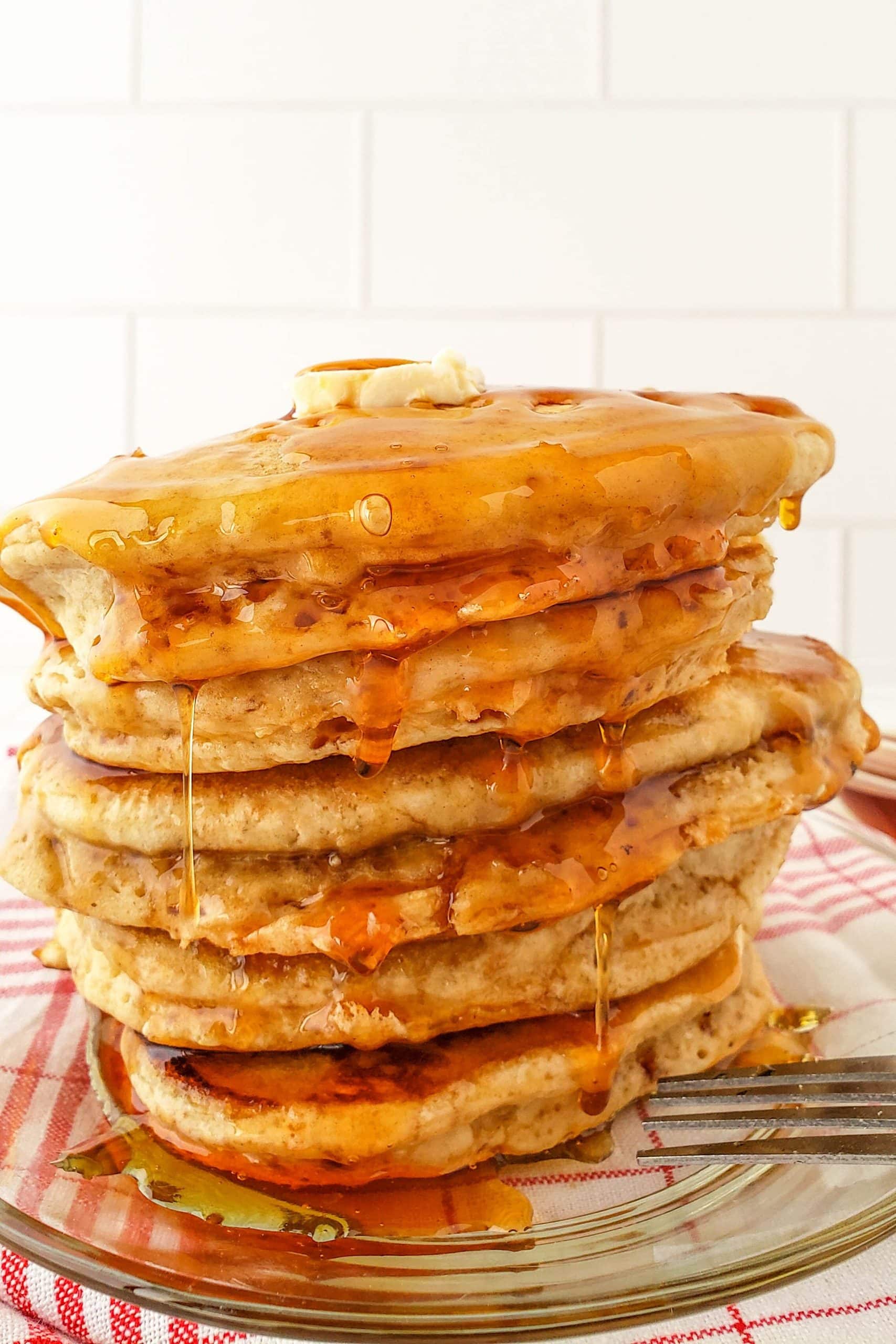 Serving suggestions For Vegan Pancakes
Variations:
Add in your favorite spices such as cinnamon or nutmeg for extra flavor.
Mix in frozen or fresh berries or bananas to make these vegan pancakes' banana flavored for a pop of color and nutrition.
Use a gluten-free flour blend for a gluten-free option.
Top your pancakes with nut butter, or a drizzle of maple syrup.
Serve with a side of scrambled tofu or roasted potatoes for a complete and satisfying meal.
Enjoy these simple and delicious vegan pancakes for a quick and easy breakfast or brunch. Give them a try and let us know what you think.
Note: This recipe makes about 5-6 large pancakes. Double the recipe as needed for more servings.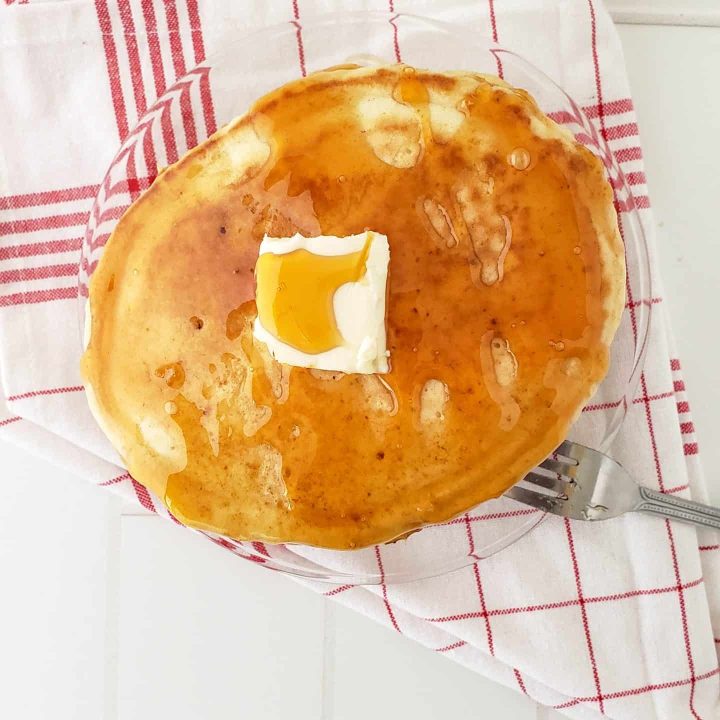 Easy Vegan Pancake Recipe
Yield:
5-6 Large Pancakes
Additional Time:
10 minutes
Are you looking for a delicious, plant-based breakfast option that is quick and easy to make? Look no further! These fluffy vegan pancakes are made with just six simple ingredients and can be on your plate in no time.
Ingredients
1 2/3 cups unbleached all-purpose flour
2 tablespoons organic sugar
1 tablespoon baking powder
1⁄2 tsp salt
1 1/2 cup soy or almond milk
1 tablespoon vanilla extract
Equipment
Measuring spoon
Measuring cup
Mixing Spatula
Mixing bowl
Wire whisk
Instructions
Combine the flour, baking powder, sugar, and salt in the mixing bowl, whisking together.

Add milk and vanilla to the mixture, stir well. Batter may be slightly lumpy, but make sure there are no flour clumps.
Lightly grease cook pan with plant-based butter or olive oil on medium heat. Pour 1⁄4 cup of batter into the pan or griddle.
Once the edges start to brown, using a spatula, flip the pancake over, checking after 30 seconds for light browning on the bottom.
Remove from the pan or griddle.
Next, top with plant-based butter, fresh fruit and/or maple syrup

Notes
For a healthier version, use unbleached wheat flour or almond flour. For a gluten-free version, use gluten-free flour.
To entice the kids, add 1 cup chocolate chip dairy-free chocolate chips.
They can be stored up to 3 days covered with plastic or a plastic cake saver container in the refrigerator.
Reheat at 30 second intervals until warm.

Recommended Products
As an Amazon Associate and member of other affiliate programs, I earn from qualifying purchases.
Common Questions about Making Vegan Pancakes
Why do my vegan pancakes fall apart?
Here could be a few reasons why your vegan pancakes are falling apart:
Not enough binding ingredients: Traditional pancake recipes often use eggs as a binding agent, but in vegan recipes, you'll need to find a substitute. Common substitutes include flax eggs (made by mixing ground flaxseed with water), mashed bananas, or applesauce. If your pancakes are falling apart, try adding more of your chosen binding ingredient to the batter.
Over-mixing: Over-mixing the batter can cause gluten to develop, which can make your pancakes tough and prone to falling apart. Mix the batter until the dry ingredients are just incorporated, and don't worry if there are still a few lumps.
Not enough oil: Vegan pancakes can be more prone to sticking to the pan than traditional pancakes because they don't contain eggs or butter. Adding enough oil to the pan can help prevent sticking and make it easier to flip the pancakes.
Too thin batter: If your pancake batter is too thin, it can be more difficult to flip the pancakes without them falling apart. Try adding a bit more flour to the batter to thicken it up.
Not letting the batter rest: Allowing the batter to rest for a few minutes before cooking can help the ingredients bind together and result in a more cohesive pancake.
By adjusting these factors, you can increase the chances of your vegan pancakes holding together and coming out perfectly fluffy and delicious.