If you love easy and quick meals, then this is the one for you! Flatbread pizzas made from Naan Bread are one of the best easy dinner recipes to make since they take only about 10 minutes to prepare from start to finish!
If you love fast to make dinners, then you'll want to add these pizzas using Naan bread to your rotating dinner menu as soon as you get the chance!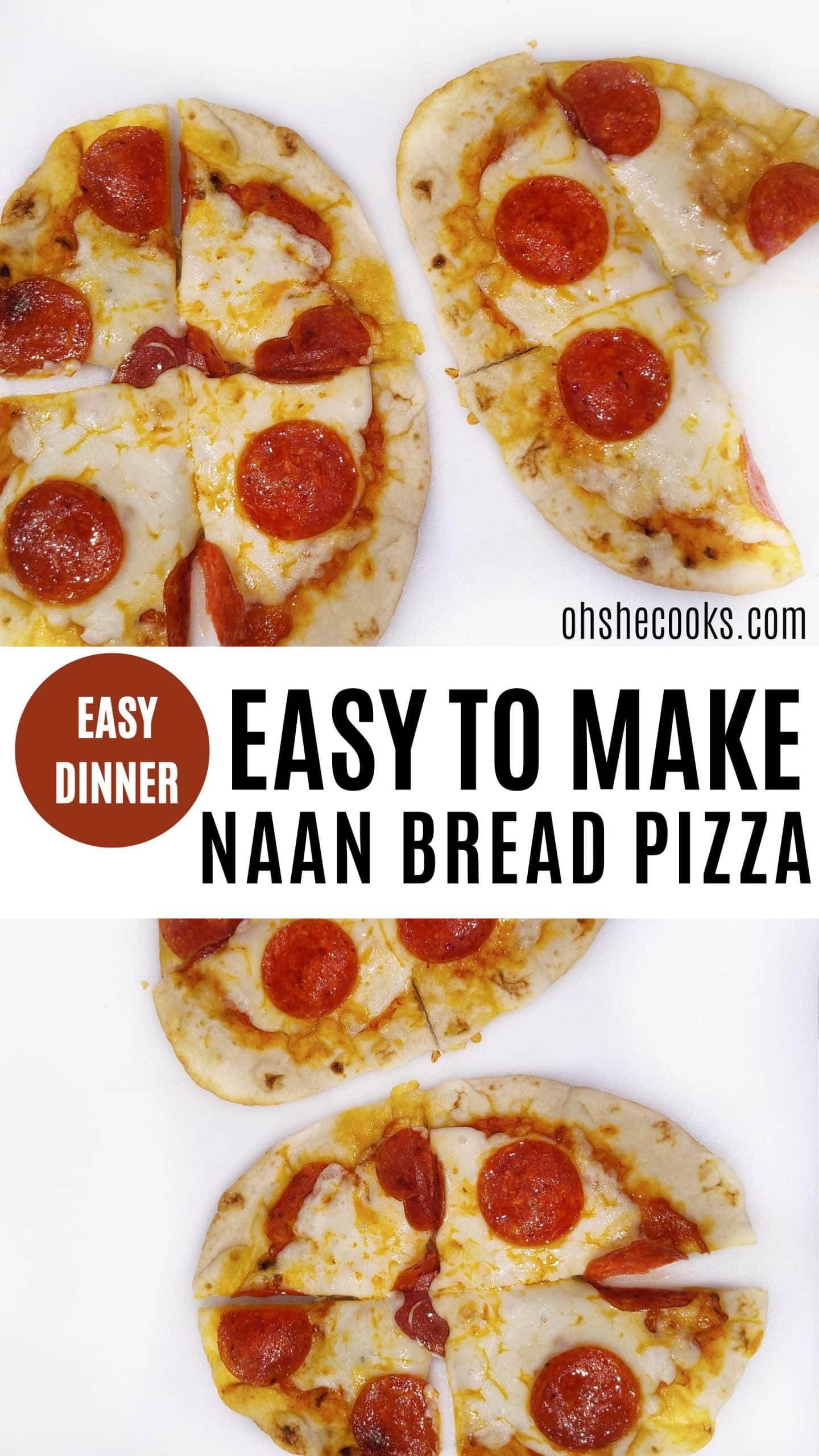 How to Make Naan Bread Pizza
Making a homemade pizza with Naan bread is straightforward and makes for one of the quickest dinners ever. If you typically don't make dinners, then you are in for some good news. You can make these easy Naan pizzas!
You'll need only a few ingredients and supplies to have a remarkable pizza dinner. To get started making this pizza you'll need the basics which are Naan bread, pizza sauce and cheese.
Ingredients for Easy Naan Bread Pizza
Naan Bread: In our family, we love making our own pizzas with the Member's Mark Original Stone Baked Naan. These flat breads have a great flavor with the chars and bubbles, which makes this pizza taste even better.
Tip: You can find this Naan at Sam's club online and in stores in the bakery department.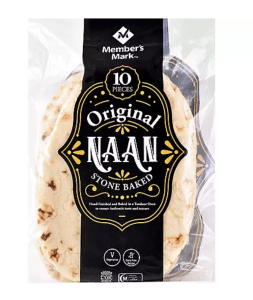 Pizza Sauce: We love using homemade pizza sauce when we have it, but if we are out, we opt to use Rao's Pizza Sauce. This sauce has an outstanding homemade taste which makes the pizza taste authentic. Use as much sauce or as little as you like, since it stores well in the refrigerator.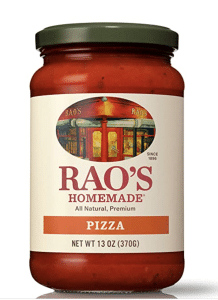 Mozzarella / Provolone Cheese Mix: You can use full mozzarella cheese on your pizza, but we prefer to use a mozzarella/provolone cheese blend (low-moisture is best) on ours. You can find this in bulk at Sam's Club in stores or online. If you prefer, you can use fresh mozzarella slices as well for an extra cheese naan pizza!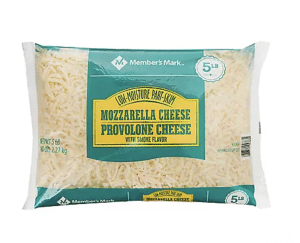 Toppings for Naan Bread Pizza
While naan bread toppings like the traditional cheese and pepperoni are always good on pizza, sometimes it's fun for your taste buds to mix it up a bit with some other, more unique flavors.
Have a look below at some of my favorite pie toppings that can take your own naan pizza to the next level. If you ask my kids thought they only want pepperoni pizza every time so to each their own!
Pizza Topping Ideas To Make Deluxe Naan Bread Pizza
Basil: Fresh basil from the garden is best for pizza, but from the shaker will work too.
Freshly Grated Parmesan: Nothing is better on pizza than freshly grated Parmesan cheese.
Fresh Mozzarella Slices: Chunks of melted mozzarella on pizza is always a good choice for an additional topping.
Sliced Onions: The flavor that red onions on pizza gives is superb, so you can't go wrong with this topping on your Naan Bread!
Red Pepper Flakes: Sprinkle this on before or after making your pizza for added zing.
Sliced Banana Peppers: Banana peppers take the flavor of your Naan pizza to the next level!
Sliced or Diced Bell Peppers: Red, Orange, Yellow or Green peppers all would be perfect as a pizza topping to give it a step-up on flavor.
Plain or Garlic Chicken: Shredded chicken is wonderful as a pizza topping. We love to use rotisserie chicken, which you can also find at Sam's Club, with garlic salt or powder on top.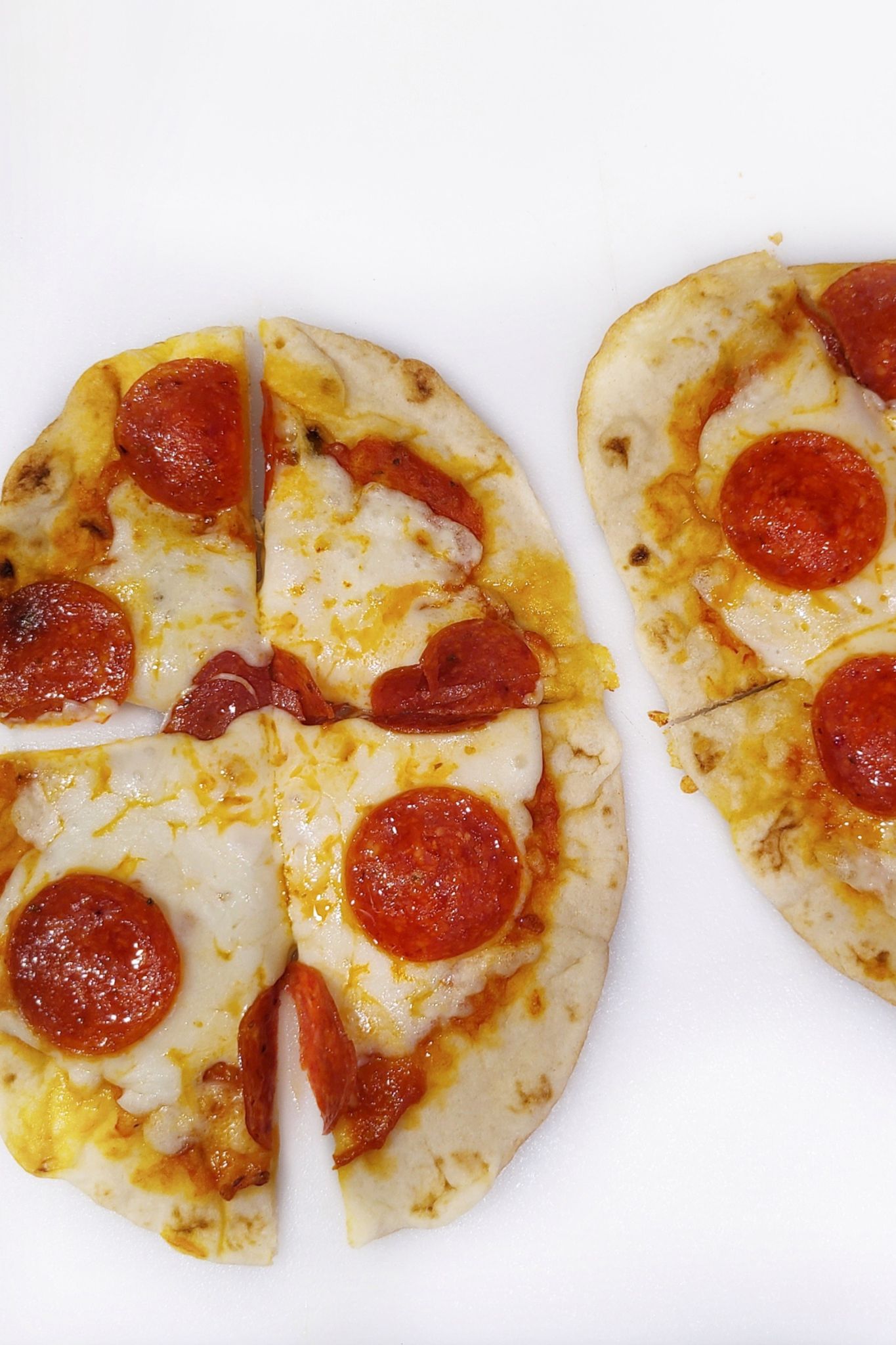 ---
Common Questions About Naan Bread
How Do I Make Naan Bread?
Making Naan bread requires egg, yogurt, yeast, warm water, flour, olive oil and sugar. I found this homemade Naan bread recipe that includes butter if you'd like to make a yummy homemade bread side dish with your dinner.
What is The Difference Between Naan Bread and Pizza Dough?
Naan bread and pizza dough are similar, except that naan bread contains dairy. Pizza dough is made with flour, water, yeast and salt, while Naan bread is made with additional ingredients such as eggs and yogurt.
Is Naan Bread Gluten Free?
Naan bread is typically made with all-purpose flour and is not gluten-free. You can substitute gluten-free flour to make this homemade bread.
What Goes Well With Naan Bread?
There are many meals that pair well with Naan bread. Try curry chicken (or anything with an Indian flavor), classic spaghetti and meatballs or naan bread layered with a fried egg, cheese and salsa.
You May Also Like These Food Posts
I hope you enjoyed this easy pizza recipe and found a new favorite go to dinner (or lunch) to make. Check out a few of my other recipe collections to see if there is something else you'd like to cook or bake too!
Naan Bread Pepperoni Pizza Recipe
Pizza night will be done right with these easy homemade pizzas!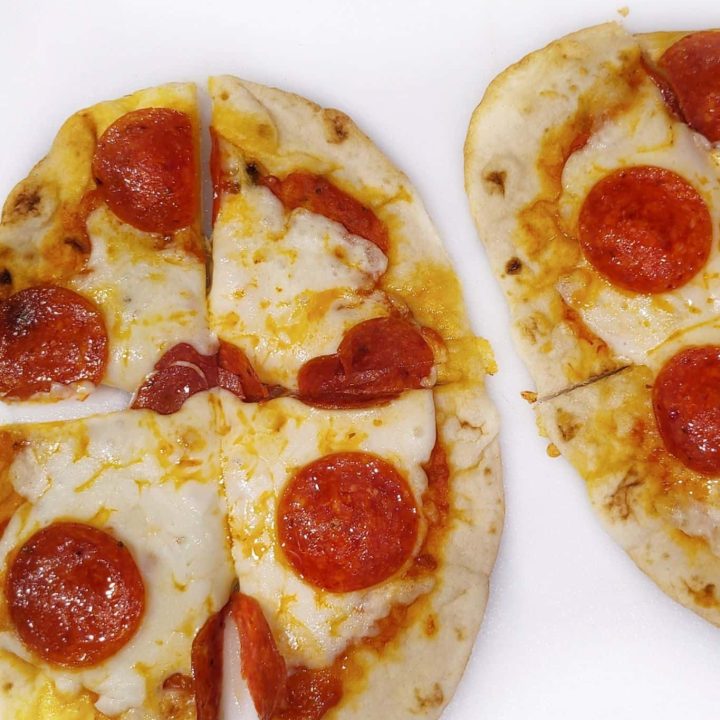 Naan Bread Pizza
Ingredients
Naan Bread
Pepperoni Slices
Pizza Sauce
Mozzarella/Provolone Cheese Blend
Equipment
1 Pizza Slicer
1 Baking Sheet
Instructions
Pre-heat oven to 350 °F

Place Naan Bread (Member's Mark Naan Bread is) on a baking sheet.

Top with pizza sauce (Rao's Pizza Sauce is great!), mozzarella/provolone cheese blend (regular mozzarella works too) and additional toppings of choice

Place baking sheet into preheated oven

Bake until cheese is melted, and the bottom of the pizza is slightly browned.

Cut the Naan Bread pizza into 4 even slices with a pizza cutter.

Serve and Enjoy!
Notes
Optional Pizza Toppings
Basil
Banana Peppers
Fresh Mozzerella Slices
Red Pepper Flakes
Sliced Onions
Freshly Grated Parmesan
Extra
Use as much sauce and toppings as you prefer for your pizza
Recommended Products
As an Amazon Associate and member of other affiliate programs, I earn from qualifying purchases.