Easy Slow Cooker Chili Recipe with Three Beans
Nothing hits the spot better than a bowl of chili on a cold Fall or Winter day! This easy extra bean chili recipe is simple to prepare ahead of time and makes a great meal for a busy weeknight dinner or lazy Fall weekend day.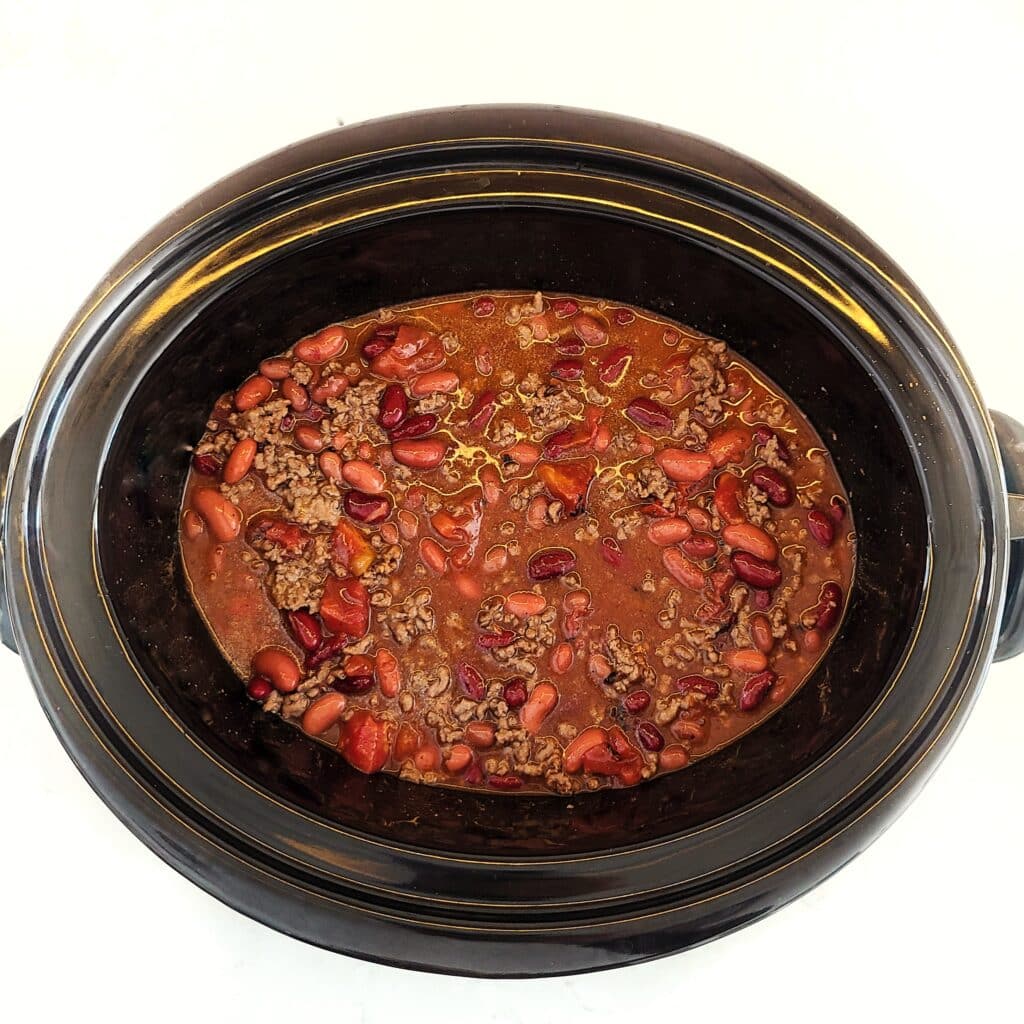 Scroll on down to find the best chili recipe for those who love beans. I hope you enjoy this easy chili recipe full of beans (which in my opinion is the best part!) that will be sure to warm your belly!
How to Make Homemade Three Bean Chili in a Slow Cooker
Chili is a classic comfort food that is perfect for a chilly winter day. This slow cooker recipe is easy to make, and it is loaded with delicious, healthy ingredients.
Chili is a dish that is typically made with ground beef or turkey, tomatoes, kidney beans, chili powder, and other spices. This chili can be made in various ways, and can be served with toppings such as cheese, onions, and sour cream.
This easy beef chili recipe uses three different types of beans, canned fire roasted tomatoes, cooked onion and garlic, ground hamburger and chili seasonings to create a tasty meal for the whole family.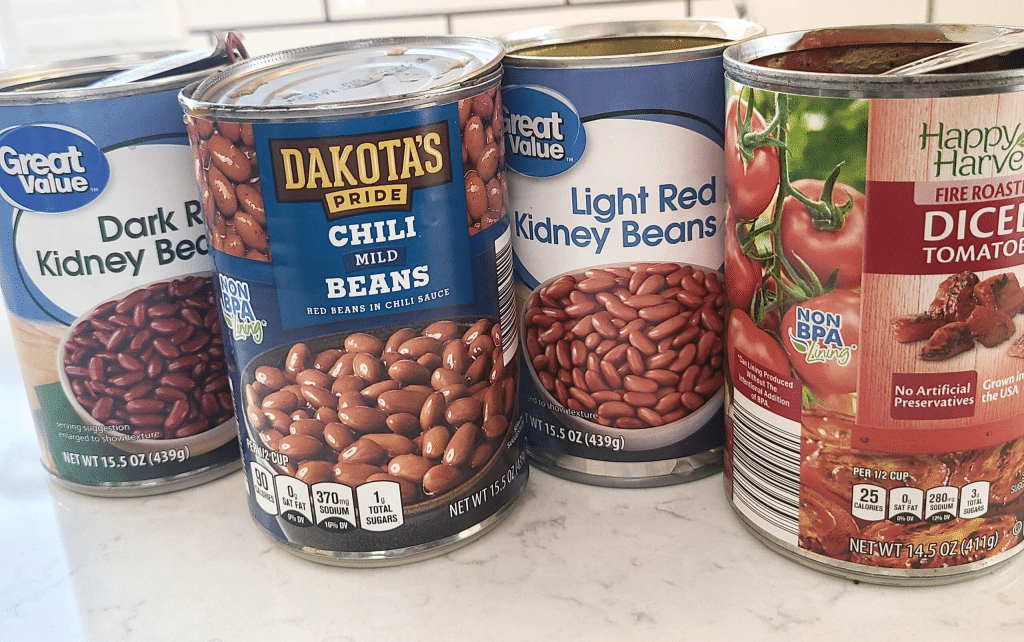 3 Bean Chili Ingredients
Take a look below at all the chili ingredients you'll want to have for this recipe.
Beans for Chili

Light Red Kidney Beans
Dark Red Kidney Beans
Chili Beans (red beans in chili sauce)
Sweet Onion

I prefer sweet onions diced and sautéed with the hamburger for the best flavor of chili. The sweetness of the onion compliments the savory flavor of the hamburger meat, and it makes a delicious combination.

I like to add a little salt and pepper to the onions while they are cooking, and occasionally, I'll even add a bit of garlic. The result is a tasty beef that is full of flavor. You can also do sliced onions if you'd prefer too.
Minced Garlic

I get my minced garlic from Sam's Club in bulk. This minced garlic is a great alternative to freshly minced garlic, stores easily in a refrigerator, and is always ready to be used when a recipe calls for it.
Fire Roasted Tomatoes

Adding fire roasted tomatoes to the chili gives it a richer flavor. The smokiness of the tomatoes pairs well with the spices in the chili, and makes the chili taste even more delicious. I highly recommend using roasted tomatoes for this dish—it makes a big difference.
Chili Seasoning

You can make this chili dish with chili seasoning that you can buy in a store or make yourself. Chili seasoning mix usually contains chili powder, cumin, oregano, and salt.

You can also add other spices, such as garlic powder, to the mix. If you are making the chili seasoning mix yourself, you can adjust the amounts of each spice to your liking.
Lean Ground Beef

I typically use ground beef in chili that is 93/7 lean, but 85/15 beef will also work. It will need drained of excess fat.
Other Ingredients for Chili
Ground turkey or ground chicken can be used as a healthier alternative to ground beef. Both are low in fat and calories, and they are a good source of protein.
While kidney beans are a type of bean that is most often used in dishes like chili. Pinto beans and black beans can be used as replacements for kidney beans if desired.
Directions to Make Bean Chili in A Slow Cooker
The easiest way to make chili in a slow cooker is by browning the meat in a skillet beforehand. Then, simply add the meat, tomatoes, beans, and spices to the slow cooker and cook on low for 6–8 hours. If you are rushed for time, you may cook on high for 3 to 4 hours.
If you prefer a thicker chili, you can add a slurry of flour to the slow cooker during the last hour of cooking or add a small can of tomato paste.
This easy crock pot chili recipe is perfect for a quick and easy meal. It is healthy, delicious, and perfect for a winter day.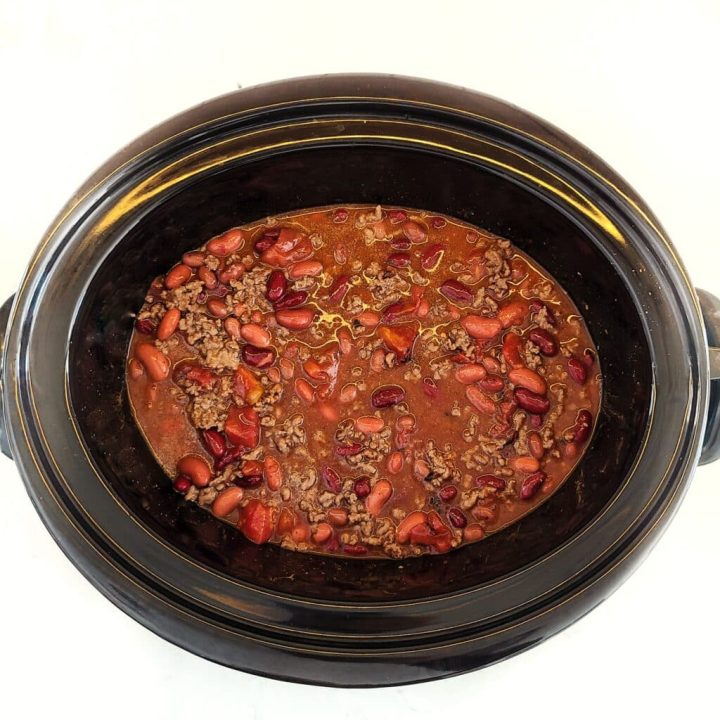 3 Bean Slow Cooker Chili
Simple to make bean chili in a slow cooker that is perfect for an easy dinner!
Ingredients
Slow Cooker
1 Packet (1.25) Chili seasoning or 5 tbsp of homemade chili seasoning (chili powder, cumin, garlic powder, oregano, salt pepper)
1 Can (15.5 oz) Dark red kidney beans
1 Can (15.5 oz) Light red kidney beans
1 Can (15.5 oz) Chili Beans
1 Can (14.5 oz) Diced fire roasted tomatoes
1/2 diced Small yellow onion
1 tsp Minced garlic
1 pound Lean ground beef
Instructions
Sauté the beef and diced onions in a skillet, then add the minced garlic to the pan. (You may need to drain the fat from the beef, depending on the percentage of fat that is in the ground meat)
Mix the 3 bean cans, tomatoes, seasoning as well as the ground beef mixture into the crock pot / slow cooker.
Cook on high in the slow cooker for 3-4 hours, or on low for 6-8 hours for some of the best tasting chili!
Notes
Serve with your choice of toppings such as shredded cheddar cheese, green onions, sour cream, corn chips and more!
I do not drain or rinse the beans, but if you'd like to do that, you may.
Recommended Products
As an Amazon Associate and member of other affiliate programs, I earn from qualifying purchases.
Common Questions about Cooking Chili in a Slow Cooker
How Do You Thicken Chili in a Slow Cooker?
A slurry of flour or a can of tomato paste with make for a thicker chili.
How Long to Slow Cook Chili?
There is no definitive answer to this question as it will depend on the recipe and the ingredients used. However, most chili recipes recommend cooking the chili for at least three hours, and up to several hours. This allows the flavors to blend and the chili to reach its desired consistency.
---
More Recipes and Food Questions