Summer is the perfect time of year for cookouts and barbecues. While the main dishes of most Summer barbecues are most often burgers, chicken or hot dogs, you will need to think about adding some BBQ sides as well.
One of the most important decisions you'll make when planning a cookout is what to serve as sides. Just ask my kids, they always know the best things to bring to a cookout.
When it comes to side dishes, there's no one right answer. Some people prefer a simple menu like potato salad or macaroni salad, while others love something a little more creative and unique.
So if you find yourself asking" What side dish should I bring to a cookout" then this post will help!
My Favorite Cookout Side Dishes
Here are some easy side dishes to bring to a cookout or picnic. From classic favorites to unique flavors, there's a variety of delicious sides here for everyone. I hope you find cookout food to bring to your next together!
---
---
---
---
---
---
Deviled Eggs
Deviled eggs are a classic side dish that can be enjoyed at any cookout. They are simple to make and can be customized to your taste. Some people enjoy adding different spices, or filling like hummus, while others prefer the traditional mayonnaise and mustard mixture. Regardless of how you prepare them, deviled eggs are a must-have for any cookout!
Classic Deviled Eggs Recipe by Spendwithpennies.com
---
Bacon Wrapped Jalapeños
If you're looking for a delicious and easy side dish to bring to your next cookout, look no further than bacon wrapped jalapeños! These little bites are perfect for anyone who loves spicy food, and they're sure to be a hit with everyone at your party. Plus, they're easy to make – all you need is some bacon, jalapeños, and some cream cheese. Simply wrap the stuffed jalapeños in the bacon, then grill them until they're crispy. Once they're cooked, serve them up for all to enjoy.
Bacon Wrapped Jalapeño Poppers Recipe by Gimmiesomegrilling.com
Classic Potato Salad
Creamy Potato salad is a classic side dish that can be enjoyed at any barbecue or picnic. It is easy to make, and can be customized to fit any taste. Some common variations include adding different types of vegetables, herbs, or spices.
Red Potato Salad Recipe by ThePioneerWoman.com
Cucumber Onion Salad
This cucumber onion salad is a perfect side dish to bring to a cookout. It is simple and easy to make, and it tastes delicious. The ingredients are fresh and simple, but work together to create a flavorful salad. The cucumbers are crunchy, and the onions are sweet, creating a perfect balance of flavors. This salad can be served cold or at room temperature, so it is perfect for any occasion.
Easy Cucumber Salad Recipe by TheCookieRookie.com
Mexican Street Corn Salad
There's nothing like a good street corn salad to brighten up any cookout! It's perfect for those warm summer days, and it's easy to make. Just mix some shredded lettuce, diced tomatoes, diced red onion, and crumbled Cotija cheese, and top it all off with some delicious grilled corn to make the perfect summer salad.
Mexican Street Corn Salad Recipe by JoCooks.com
Easy Pasta Salad Dish
Looking for an easy pasta salad dish that you can bring to a cookout? This simple side dish is perfect! It's made with cooked pasta, diced fresh tomatoes, bell pepper, red onion, crumbled blue cheese, feta cheese, cheddar chunks and fresh parsley. It's tossed with a creamy dressing that is perfect for summertime gatherings and makes a delicious pasta salad!
Pasta Salad Recipe by Twopeasandtheirpods.com
Apple Cider Vinegar Potato Salad
Apple cider vinegar gives the potato salad a tangy, slightly sour flavor. Some people also add onion or other vegetables to make the potato salad as well as some chili flakes to give it a little heat and to make it more yummy. This is the style we prefer for our Summer cookouts.
Apple Cider Vinegar Pototo Salad Recipe by Protopantry.com
Broccoli Salad
When it comes to side dishes, broccoli salad is a popular option. This salad is typically composed of broccoli, carrots, and celery dressed in a creamy dressing, all of which are simple ingredients. Some variations include adding raisins or nuts, and some people enjoy it spiced up with chili powder or cumin. Whether you're searching for something light and refreshing or hearty and flavorful, broccoli salad is a great option to consider when planning your Summer cookout menu.
Broccoli Salad with Bacon, Cheddar & Almonds Recipe by Onceuponachef.com
Fresh Vegetable Tray
If you intend to host a cookout this summer, one option is a fresh vegetable tray. This can be made up of anything from simple cut vegetables on a tray or individual trays of veggies for the guests. It's a great way to offer something healthy to guests, and it'll help make cleanup a breeze too, since there isn't much to this side!
Green Bean Casserole
This classic recipe for green bean casserole is a simple but delicious dish. The key to making a great casserole with green beans is using high-quality ingredients and cooking the beans until they are tender. Some popular variations of this classic dish include adding bacon or ham, tossing in some shredded cheese, or serving it with a crispy topping such as bread crumbs, onion strips or panko. Whatever your favorite variation, be sure to bring a delicious green bean casserole to your next cookout!
French's Green Bean Casserole Recipe by Mccormick.com
---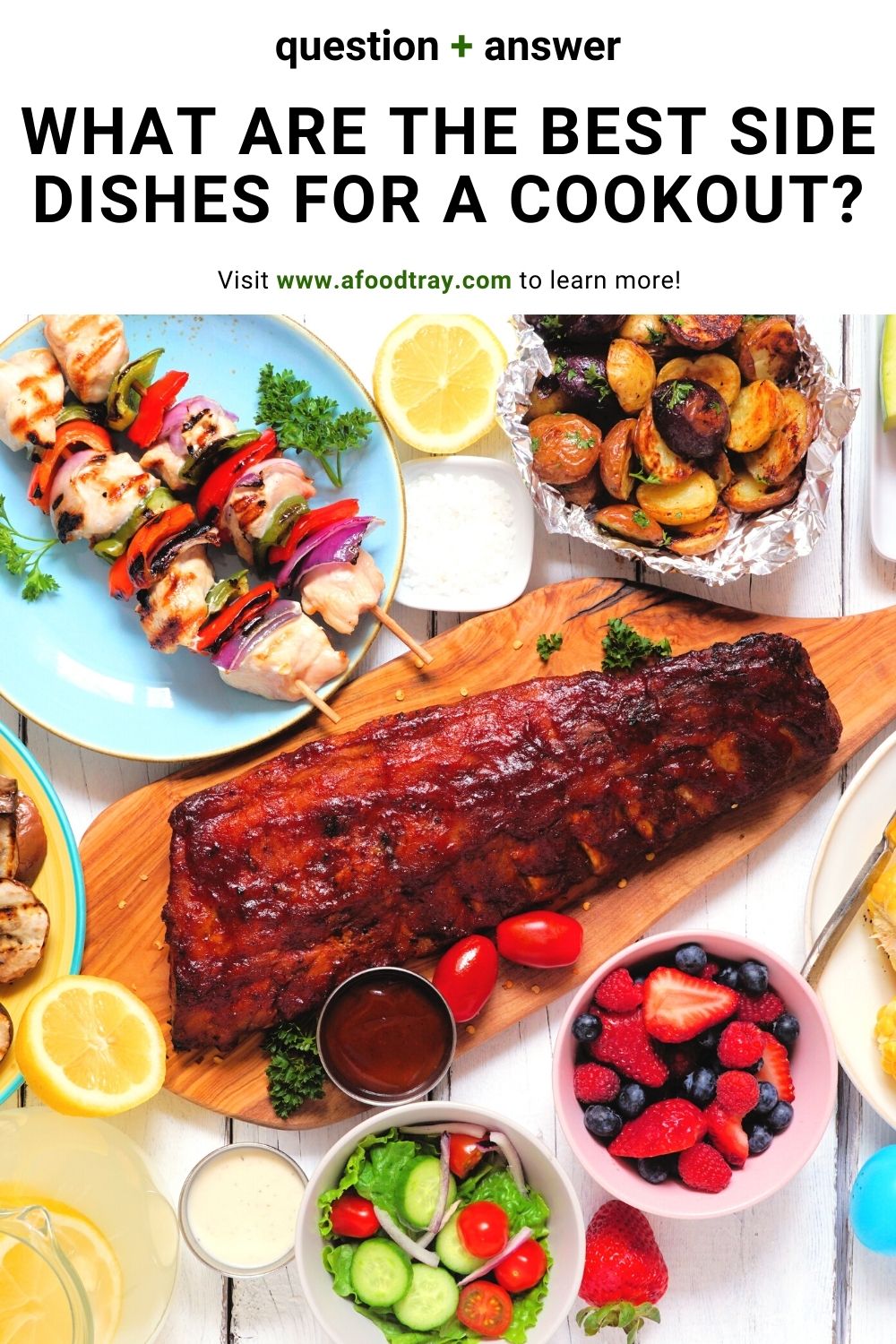 Whether you're throwing a backyard BBQ, hosting family gatherings or a large crowd, sides are an essential part of the meal. I hope you enjoyed our list of favorite side dish recipes!
More Food Q's & A's
Take a look below at more food questions and answers to learn more.