How to Make Eggless Oatmeal Pancakes
Are you looking for a pancake recipe that does not use eggs, but that still tastes great?
If so, you'll love these simple to make egg free pancakes using oatmeal and oat milk for a quick and tasty vegan breakfast meal.
Eggless Oatmeal Pancake Recipe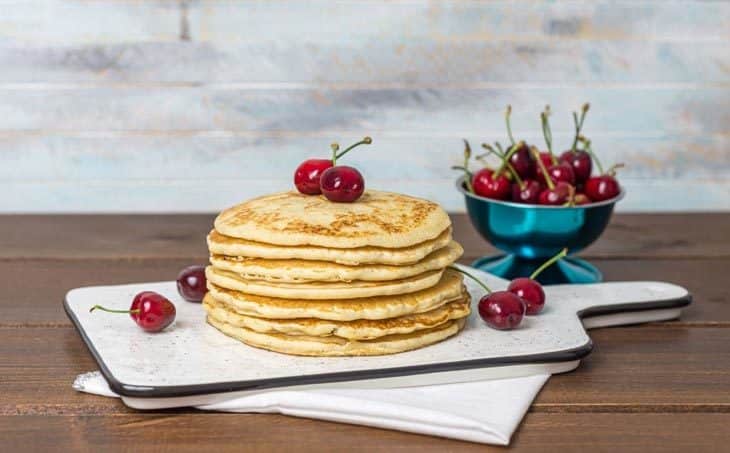 So, how to make egg free oatmeal pancakes? Let's go through the ingredients we need before heading to the detailed instructions:
Ingredients
3/4 cup oats (it could be instant oats or cooked oats)
One or one half of cup of oat milk
Three tablespoons of neutral oil
Half cup of all-purpose flour
2 teaspoons baking powder and sugar
1/4 teaspoon baking soda and salt
Frozen blueberries (optional)
Now that we have had the ingredients on hand. Let's find out how to make the best eggless oatmeal pancakes!
Instructions
Step 1: Prepare the cooking kit
Use a skillet or a griddle for cooking your healthy pancakes. Turn the heat on low-to-medium temperature and heat a small amount of oil beforehand.
Step 2: Prepare the oats compound
Put in a bowl an equal amount of oat flour and oat milk and stir the mixture well. Put the bowl in the microwave for one and half minutes. Once it has been heated, remove the bowl from the microwave and add in some more neutral oil to moisturize the substance. Allow it to cool down a bit before adding the oil.
After that, use a different bowl to mix other ingredients, including flour, baking soda, baking powder, sugar, salt, with the instructed ingredient amount. Take the bowl of oats and pour the oat substance into this bowl as well. Mix them all with a fork.
The time to pour in half a cup of oat milk or more depends on how your current oat substance looks. The pancake batter must be dense and weighted enough so that when it is poured into the skillet, it automatically forms a circle shape.
Step 3: Pour the oats compound into the skillet
Before dropping the oats compound into the skillet, make sure it has been preheated for at least 10 minutes. Then, slowly pour in a quarter of the batter on the skillet.
If the shape has not been round like you wish for, you can adjust it with a spoon, but the action must be quick. After that, place some of your dry blueberries or any other fruit toppings above the batter.
When the batter seems to have the edge dried and brown on one side, lift it upside down. Once both surfaces result in some bubbles or the blueberries burst out, it's the sign of cooked healthy pancakes with oats. Remember to adjust the temperature to medium heat so that you don't burn the pancakes by accident from now on.
Step 4: Serve the vegan oatmeal pancakes
Once the quick oatmeal pancakes are properly cooked, remove them out of the skillet to a cooling rack. If you make multiple pancakes, make sure the premade pancakes are dry and left in warm spaces so that they still remain in good condition.
As for serving, you can put the healthy oat pancakes on a round dish and top it with maple syrup or any other topping choices.
What Are The Tips For Making The Perfect Eggless Oatmeal Pancake?
Vegan pancakes without eggs will have a thicker structure compared to ordinary pancakes, so you must take time to cook this special pancake. However, please do not rush the process by heating the heat so high since not only it won't make the pancakes edible faster, it also burns the pancake easily.
It would help if you used an iron griddle or skillet to cook vegan pancakes to ensure that they are cooked entirely without being burned.
If you add fruit toppings to gluten free oat pancakes, make sure to put them in the middle of the batter, not at the edge, to prevent the toppings from being slipped out.
Be careful when you mix the batter. Pay attention to the structure of the batter to make sure that it is not too thick yet too thin. Simply mix everything until you see a fulfilling batter condensation. If you find a little bit of clumps, it's fine to skip them as they won't ruin the texture too much. Don't overmix the batter because it can make pancakes dense. It'd be better to mix until combined. When you see a few small clumps, it is okay.
If you want to taste the flavor of chewy oaty, blending oats into flour can be skipped to maintain the characteristic of oats to the fullest.
The Final Word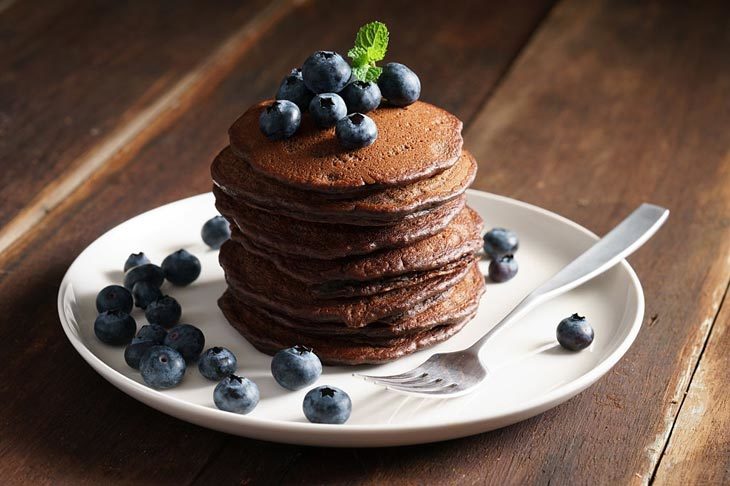 And that's how you create a dish of eggless oatmeal pancakes. This gluten free pancake recipe is straightforward to make as long as you follow our instructions carefully. It is a healthy yet sweet dish that you all should taste and implement regularly in your dining routine.
Thank you for reading our article, and we will see you soon!