15 Excellent Goat Cheese Substitutes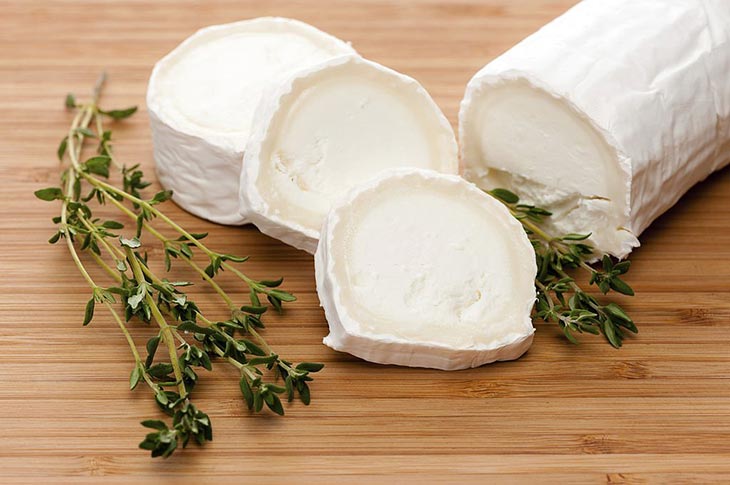 Goat cheese is a flavorful ingredient to add to both sweet and savory dishes.
There are many recipes that call for good quality goat cheese, whether it is a creamy cheesecake or a quick pasta salad.
Moreover, goat cheese is an excellent choice to be paired with green vegetables such as spinach.
But at the same time goat cheese is not always readily available. Unlike regular cheese made from cow milk, goat cheese can be surprisingly difficult to obtain in certain areas.
And goat cheese doesn't appeal to everyone. I have known a few people who show a great distaste for goat cheese for no particular reason.
That's where goat cheese substitutes come in handy, whether you are an aspiring chef or simply an enthusiastic home cook.
Knowing how to use other ingredients as substitutes for goat cheese can save you a lot of time and effort while maintaining more or less the same flavor or texture of the dish.
The good news is goat cheese can be easily replaced in a recipe by other popular ingredients.
Below is our list of awesome goat cheese substitutes that guarantee almost equal flavor and texture.
List of Great 15 Goat Cheese Substitutes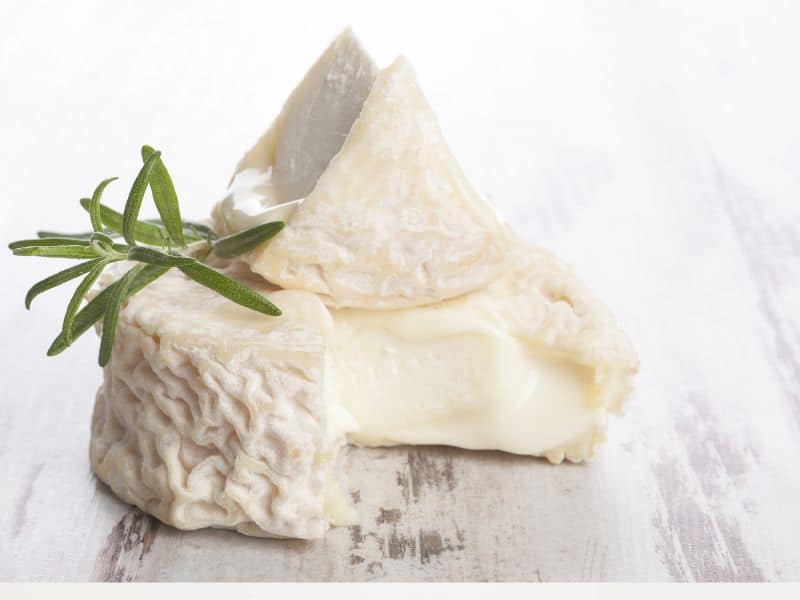 Before you get to know the available substitutes for goat cheese, there are a few things you should know about goat cheese.
Goat cheese is made from goat milk by leaving the raw goat milk to become naturally curdled before being drained and pressed.
Although there are many ways you can replace goat cheese in a recipe, it can be difficult to recreate the same original flavor of goat cheese.
For flavor purposes, you can use blue cheese, feta, fromage blance with salty and milky taste.
For the texture, you should try a similar amount of cream cheese, mascarpone cheese, camembert cheese to make a creamy texture.
And a little labneh (yogurt) for a little punch. Let go to dig down for each type to know the Pros and Cons of each.
1. Cream Cheese
An amazing goat cheese substitutes regarding texture is cream cheese. It has just the right creamy texture that bears a great resemblance to goat cheese.
In case you need to swap goat cheese in your recipe with an ingredient similar in texture, then cream cheese is a perfect option.
Cream cheese can be used instead of goat cheese in various dishes such as cheesecakes or salads. However, cream cheese is higher in fat and doesn't taste exactly like goat cheese.
To mimic the flavor of goat cheese, try adding some fresh yogurt and reduce the amount of cream cheese to be used.
2. Cottage Cheese
Another common goat cheese substitutes is cottage cheese, which has a mild flavor and lots of nutrients at the same time.
Some blending is required to achieve the desired texture of goat cheese, but overall cottage cheese can go pretty well with a wide variety of foods due to its mild flavor.
There are plenty of ways to serve and enjoy cottage cheese. If you simply look for an alternative to goat cheese without having to retain the original flavor, you won't go wrong with cottage cheese.
3. Feta cheese
The above two options can easily recreate the same texture as goat cheese, but is there other alternatives that offer both the taste and texture of goat cheese? The good news is yes, there is. And that's feta cheese.
Feta cheese is made from sheep's milk, which roughly has the same tangy flavor as goat's milk. This alternative is highly recommended for those who love the taste of goat cheese but can't get hold of any for a special dish.
Due to its strong, salty taste and crumbly texture, feta cheese goes well with salad dishes. But it doesn't end there. Feta cheese can be creatively cooked or served to make surprisingly delicious and healthy dishes.
4. Ricotta cheese
The next goat cheese substitutes originated from Italy, and it's none other than ricotta cheese. Ricotta cheese is a fresh cheese that can be made from cow's milk, sheep's milk or goat's milk.
It can be easily kept fresh for a long time with simple ways.
To make ricotta cheese taste more like goat cheese, try adding a little bit of lemon juice or yogurt. Ricotta cheese is also a versatile ingredient, which can be found in main dishes, salads or desserts.
One of the famous dishes that make use of ricotta cheese is the super yummy ricotta cheesecake with raspberries. Moreover ricotta cheese can be easily keep fresh for a long time after using.
5. Mascarpone
Mascarpone is not a stranger to aspiring cooks out there, especially if they have a soft spot for sweet treats. Mascarpone is most frequently used to make tiramisu, but it can replace goat cheese in several recipes as well.
Although mascarpone carries a rather sweet taste, its creamy and smooth texture is equally appealing. A little bit of plain yogurt can be added to bring the taste of mascarpone closer to that of goat cheese, but of course, it's a matter of personal preferences.
6. Manchego cheese
A less popular substitute for goat cheese is Manchego cheese. Manchego cheese originates from Spain and carries a fruity and slightly nutty flavor.
One big difference between Manchego cheese and the types mentioned above is the hard texture, which is a perfect option to replace hard goat cheese.
Manchego cheese is made from sheep's milk, so regarding flavor, it can more or less create a similar taste to goat cheese.
However, this type of cheese is a bit harder to obtain than the others, so if you happen to come across Manchego cheese at your local supermarket, do not hesitate to purchase a good amount.
7. Blue cheese
The last goat cheese substitutes on our list is blue cheese. Don't be put off by the seemingly moldy look of blue cheese as it can astonishingly exceed your expectation when it comes to finding a good alternative for goat cheese.
Blue cheese refers to the type of cheese created by adding blue mold powder to milk when the cheese is being made. It's true that blue cheese doesn't have that attractive and delicious look, but do not judge a book by its cover.
Blue cheese is slightly creamier that goat cheese as far as texture is concerned, but it has a strong flavor that complements plenty of dishes. Blue cheese can go amazingly well with dried fruits, walnuts, apples or pears.
So the next time you are looking for something to replace goat cheese in your dish, give blue cheese a chance because it rightly deserves one.
8. Fromage Blanc
You can guess from the name that this exotic substitutes for goat cheese is from France. Fromage Blanc, which means "white cheese" in English, is a fat-free fresh cheese that produces a soft texture and a mild flavor. Fromage Blanc is an excellent addition to both sweet and savory dishes.
One of the problems with Fromage Blanc is that they can be pretty hard to find. But you can try making Fromage Blanc at home by following this instruction: How to Make Fromage Blanc.
9. Añejo cheese
What is Añejo cheese? With someone, this is the first time heard about this cheese. Añejo cheese (known as Queso Añejo) is one of the traditional cheese from Mexico's years.
Normally, it is made from cow's milk or goat's milk. Añejo cheese is widely using in baking or grill party. Both fresh or dried cheese, It also well to be crumbled or grated, then mix into the foods because it is easy to break into smaller pieces.
It has a salty and lighter flavor than the other cheeses, that is the reason why some people substitutes for goat cheese.
10. Cotija Cheese
Cotija is a province in Mexico so that cheese's name is called following that reason (Cotija has another name is grain cheese).
Cotija Cheese also is made from Cow's milk but It has flavor is so salty, milky, and strong compare with others.
When mixing the foods, it will be dried and firmed. It is often used on Mexican dishes like nachos, posole, or enchiladas.
If you are the guy that loves the strong flavor, I think that is not a bad choice for goat cheese substitute on Mexican dishes.
11. Queso Fresco
Queso fresco know as "fresh cheese"- also come from Mexico which is often made of mixing cow's milk and goat milk.
It has special features as more bright, fresher, and milky compare to goat cheese. Because of that reason, it is usually crumbled on vegetable dishes like salad, soups, or egg.
Queso Fresco is also nice to use decoration for your dish because of darkening colors.
12. Camembert
Camembert cheese was invented in 1791 by Marie Harel and used widely in Europe years ago. It has the sweet and milky flavor and easy to be crumbled into small pieces.
Camembert and goat cheese have the same nutrition such as protein, fat, fiber, monounsaturated, polyunsaturated. Maybe, that is why Camembert is in the list of cheese alternatives for goat cheese.
13. Paneer
Paneer was found in India. It is a mixture of curdled milk and vegetable or fruit. Paneer is soft, not melt, and own flavor.
Because of the same texture so it could able to be an alternative for goat cheese in an urgent case. Paneer is often used in breakfast or the main meal in Indian.
14. Paneer
Labneh is a soft cheese made from cow's milk yogurt. Someone tell me that Labneh is the same with the cream cheese, but it is not the truth.
It has its feature such as tangy flavor, softer, healthier and less fat and calories compare with cream cheese. So you can feel free to enjoy it and not worry about your outfit.
15. Make Your Goat Cheese Substitutes
If you are still not pleased with any of our suggested options, why don't you try making our goat cheese substitute? It is indeed more troublesome, but isn't it wonderful being able to tackle the problem with your hands?
You can either try making the above alternatives or come up with your substitutes that can be adjusted to your preferences. It does sound complicated, but once done you will realize that it's not that hard.
Here's a video that demonstrates a quick and simple way to make cheese at home: