How To Fix Salty Gravy – Top 8 Ways To Save Your Sauce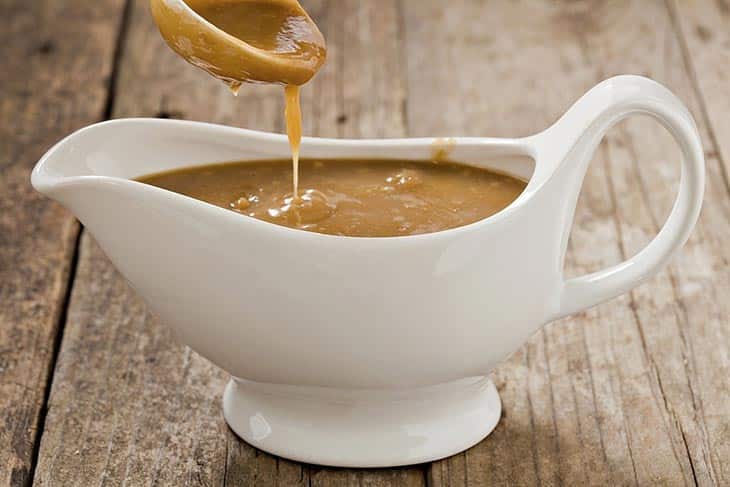 Perhaps you followed a gravy recipe perfectly, but added too many seasonings accidentally. Now, your yummy gravy becomes too salty to eat.
What should you do in this situation? So, how do you fix salty gravy and save your dish in the shortest amount a time.
How To Fix Salty Gravy? 8 Best Tips That Worth To Try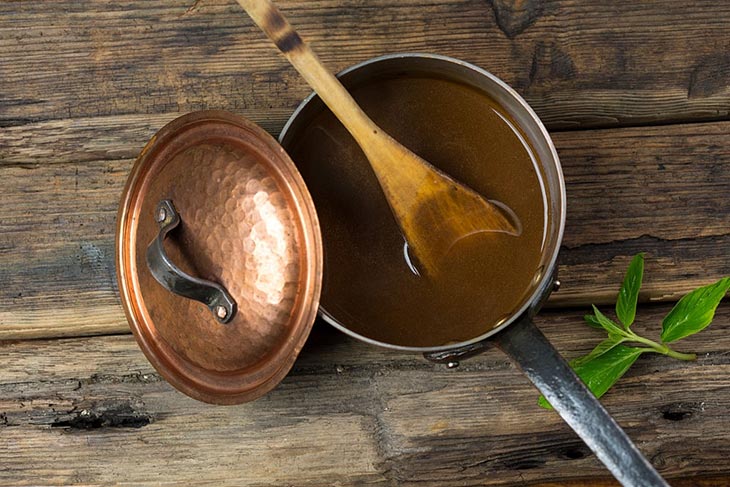 Before getting into details about the methods on how to fix over salted gravy, let's unveil the misconception about the most well-known recusing method – adding the raw potato into the boiling sauce.
Robert Wolke, professor emeritus in chemistry at the University of Pittsburgh, conducted various controlled experiments to see whether this method worked.
After multiple experiments, he determined that potatoes helped absorb salty water yet did not fix sauce too salty.
So, rather than following this improper method, let's follow the proven methods on how to fix gravy that is too salty.
There are plenty of ways, such as diluting, counteracting with acidic ingredients, using puréed beans, and so on. Please carefully walk through these methods and select the most suitable salty gravy fix for your needs. 
1. Dilute The Salty Gravy With Water Or Unsalted Stock
The first method on how to cut salty taste is to add more liquid into the gravy.
All you have to do is to add meat stock to neutralize over-salted gravy while enhancing its flavor. If you do not have any meat stock, you can use an unsalted broth of vegetables or a bit of water instead.
This method is simple; however, it might lead to thin gravy. In that situation, you only need to add a little thickener, such as a tablespoon of cornstarch or a tablespoon of all-purpose flour. 
2. Use Sweet Ingredients to Balance The Saltiness
Is there any method to fix salty gravy without altering its texture?
Well, you can balance the salty flavor by re-seasoning your gravy with sweet ingredients, such as white sugar. Sugar is the most well-known savior for over-salted foods, as you can easily find it in your kitchen.
A small pinch of sugar will help to counteract too much salt in gravy. This way, you can effortlessly reduce the saltiness.
However, it is a must to check the sauce's flavor after each addition to ensure that your dish does not take on too much sweetness.
3. Add Citrus Or Vinegar To Decrease The Salty Flavor
What else can you do to fix too salty gravy?
Let's use acidic ingredients, such as lemon juice or vinegar, to combat the salty flavor. They work as well as sugar to offset the saltiness and bring it back to the land of deliciousness.
However, when you use acidic ingredients, add them a little at a time to avoid ruining your dose of gravy with a tart flavor.
4. Cut Salty Gravy With Creaminess
Is there any other method on how to reduce saltiness except using sweet or acidic ingredients?
If you have used dairy products, such as milk, heavy cream, or sour cream in your gravy recipe, you can add these ingredients to desensitize your taste buds, making the sauce less salty.
Moreover, these ingredients help to enhance the richness and take the sauce flavor to the next level.
5. Add A Little Fat To Absorb Some Of Saltiness
How to reduce saltiness in gravy?
Let's combine a tiny amount of butter or margarine with your salty gravy. Fat helps to absorb some saltiness in minutes without alternating the flavor of the sauce.
In case you use solid butter for desalting, it is necessary to melt the butter before combining it with the sauce. If you skip this step, you are likely to have lumpy gravy.
If your sauce has already been pretty thick, and you accidentally add too much butter, it might become too dense to enjoy.
So, how to thin out gravy? Well, add a little unsalted broth or water, and your sauce will come with fantastic flavor and texture.
6. Use Puréed Beans To Make The Sauce Less Salty
How to make sauce less salty? You can use puréed beans to balance the salty flavor. 
Let's purée a cup of drained, canned low-sodium beans with 1-2 tablespoons of water until smooth. Then add the purée little by little, and continuously stir the mixture until the sauce reaches the desired flavor. 
Moreover, the puréed beans also make a perfect thickening agent for gluten-free gravy lovers who cannot use dry flour to thicken the sauce. 
7. Serve Salty Gravy With Under-salting Accompanying Dishes
If you plan to serve the mains or any other side dishes, such as fried potato cubes with the gravy, consider under-seasoning them to balance the salty sauce taste.
Although less-seasoned dishes will not fix your salty gravy, they will help create a balanced flavor for meals. Once you enjoy them at once, you only feel the delicious flavor on your tongue.
8. Use Semi-dry Wine To Cut The Salty Flavor
What if you are in a rush, and you need to serve the gravy immediately? How to make gravy less salty?
If you do not have much time before serving, you can serve your dishes with a semi-dry wine, such as French white wine, or Vouvray, to balance the excess salt.
The complex sweet flavor of wine surely distracts your palate in a very pleasing way. This way, you will pay little attention to the salty gravy while enjoying the entire meal.
Wrapping Up 
Here, you know the top tricks on how to fix salty gravy. Which one is your most preferable gravy too salty fix among these? Or do you have any other simple method on how to make a sauce less salty?
Let's share with us your cooking experience through the comment box below. We always love to hear more from you guys.
Goodbye! Hope to see you again in another article.