How To Freeze Dry Ice Cream (2 Ways)
Do you ever wish that you could enjoy your favorite ice cream flavor without worrying about it melting all over your hands? Well, you're in luck because freeze-drying ice cream is a game-changer. Learn all about how to freeze dry ice cream below!
Freeze-drying is a process that removes all the moisture from food, making it lightweight and easy to store. It's a popular technique used in the food industry to preserve food for long periods of time without the use of preservatives.
In this article, we will dive into the process of freeze-drying ice cream and provide you with a step-by-step guide on how to do it at home. So, get ready to enjoy your favorite ice cream in a whole new way!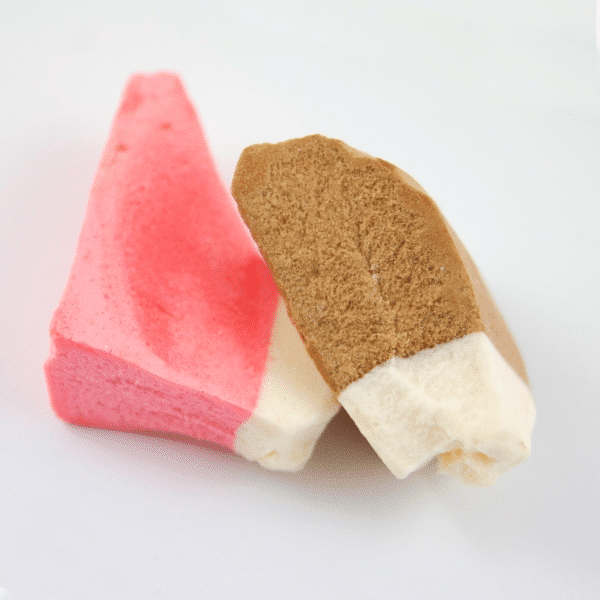 How To Freeze Dry Ice Cream?
Ingredients
There are two kinds of dry ice cream or DIY astronaut ice cream you can choose, depending on your preference: dryer ice cream and faux freeze dried ice cream. In this article, we will show you how to make freeze dried ice cream to create both kinds.
For freeze dryer ice cream, you will need a quarter of liter ice cream in your favorite flavor. You can purchase ice cream from the supermarket or from the ice cream store. Make sure that you freeze your ice cream well before starting to freeze dry ice cream.
For faux freeze-dried ice cream, you will have to make your own ice cream. But don't worry, the ingredients are easy to access, and it will definitely be an easy job. The recipe includes:
Four white eggs. Best eggs to make ice cream should stay at room temperature, so if you have taken your eggs out of the fridge, make sure to leave them at room temperature for 5 minutes before breaking them
100g of cream tartar (approximately ⅓ teaspoon)
1 cup of white sugar (or brown sugar if you prefer)
1 tablespoon of flavoring extract. It can be vanilla, mint, chocolate, etc.
Gel food coloring, if you want to add some fun colors to your final ice cream dish
Recipes
Freeze Dry Ice Cream
Step 1: Prepare the ice cream
You will need a tray and a scoop to place your ice cream onto the drying tray in the shape of scoops or in any particular shape that you like. Be careful to drop your ice cream onto the tray and refrain from letting the ice cream stick to each other. Doing this step carefully will save you time handling the final product.
Once you have the ice cream prepared for drying, put the tray in your freezer a little bit to let it chill for 1-2 hours. Remember to cover them with plastic wrap to prevent getting flavor mixed.
This step is optional, but it will make your astronaut ice cream recipe last longer once you are done. If you are busy or so eager to meet your dry ice cream, then we can go ahead to the next step.
Step 2: Freeze the ice cream
You should put the tray into the freezer and adjust the information to freeze dried astronaut ice cream well based on the manufacturer's instructions.
After turning the appliance on, you must decide on the drying type and the drying type. If you have no experience of handling dry ice cream astronaut before, it is best to follow the instructions given when you look up the recipe online.
Most recipes ask for 12 hours of freezing, but due to different types of ice cream, the drying time can be extended to one day or even two days. Our advice is to start with half a day first, and then you can adjust the time when you see the products.
Step 3: Dry the ice cream
After your ice cream is frozen, it needs to be completely dry to become dehydrated ice cream. Switch the mode from freezing to drying and continue to wait for 12 hours for the drying duty.
A small tip for you to save time is not to procrastinate and open the dryer frequently to see how things are going. You will indeliberately interrupt the process, which can cause the drying process to take longer than usual while the results are not satisfactory.
Step 4: Test and confirm
After a long day of waiting, we know you have been anticipated to try out your dry ice cream. You can take one ice cream out to test whether it is approved yet or not after you take the tray out of the appliance.
Take one dry ice cream and break it into half. If you can see some moisture, coldness, or wetness, it means your dry ice cream is not done, and you need more time drying. Otherwise, if you break it and the texture is hard as a rock, then your dry ice cream has been done!
Step 5: Redry the ice cream (if needed)
Dry ice cream for the second time requires only a couple of hours (proportional to your drying time). After that, the ice cream should be dried completely right now.
If you haven't separated the ice cream beforehand, you can use a knife to separate them into pieces and store them in an airtight container for storage. What's special about dry ice cream is that you don't need to store them in the fridge anymore – they can stay at room temperature for up to 20 years!
Unlike other desserts, they melt down at the moment you put them at room temperature like cheesecake can sit out 10 minutes, dry ice cream will be the dessert you can bring along and enjoy at any time. That's how to make astronaut ice cream!
Making Faux Freeze Dried Ice Cream
Step 1: Prepare the ice cream
Since you make astronaut ice cream on your own, there are a lot of small steps to follow. Before mixing ice cream, prepare the oven at 200 degrees F to dry the ice cream later on. Line a parchment paper or baking sheet on top of the trays to make sure your ice cream does not stick together in the end.
Let's start making the ice cream by adding 4 eggs to one bowl and beat it until the substance turns frothy. You can use an electric mixer instead of your hand to make the procedure faster and more reliable. That's the first step on how to make space ice cream.
Continue to add in the tartar and beat the mixture up at high speed in 2 minutes. Finally, spray in some additional sugar and extract to elevate the flavor of your ice cream.
Remember to add in your favorite flavor extract in this step! Beat the mixture until the ice cream reaches a dense form when you can turn the bowl upside down, and the ice cream does not pour down.
Step 2: Place the ice cream onto the baking sheets
You can use a scoop or a spoon to move your ice cream from the bowl to the baking sheet. Dry ice cream is best eaten in circle shapes, so it is best to prepare the ice cream into shapes from the beginning.
If the ice cream looks jagged or looks uneven, add in some water to flatten the surface, but don't let the ice cream get soaked with water.
Step 3: Bake the ice cream
Set the oven to bake for 2 hours until they are dry. It's important for you to closely watch the procedure, as you don't want the high heat to ruin the ice cream's texture or take on any golden brown color.
Step 4: Cool the ice cream
Once the ice cream is done baking and drying in the oven, remove them out from the oven and let them sit at room temperature for 5–10 minutes. You can either test them to see if they have really dried, or you can just use them instantly if you are confident in your baking skill.
This kind of ice cream can last for up to 3 weeks at room temperature, so if you want to use them in the longer future, put them in the fridge.
More Recipes for Sweets
I hope you enjoyed learning about how to freeze dry ice cream and found a new fun treat to make! Take a look at some more of our favorite desserts below.