How To Freeze Kefir Grains
Freezing kefir grains can be a great option to preserve them for later use. In this blog post, we will guide you through the steps of freezing kefir grains, so you can ensure that your kefir culture will be safe and ready to use whenever you're ready to start making kefir again.
We'll cover everything you need to know, from how to prepare your kefir grains for freezing to how to defrost them and get them back to their active state. Whether you're a seasoned kefir maker or a newbie, freezing kefir grains is a valuable skill to have in your arsenal.
So, let's dive in and learn how to freeze kefir grains!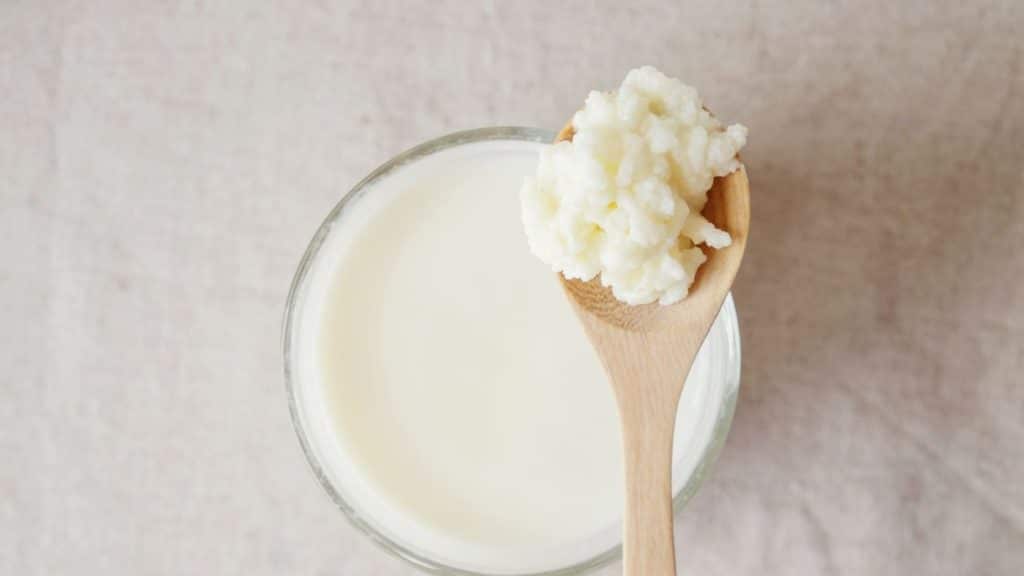 How To Freeze Kefir Grains?
If you want to take a break without destroying your grains or wasting milk, you'll need to figure out how to freeze milk kefir grains. You can freeze milk with short-term storage and long-term storage.
Short-Term Storage
Before putting your grains in the fridge-freezer, ensure they've been actively cultivating for at least 3 to 4 weeks. Let's start with the following steps:
Cover the grains with fresh milk until they are thoroughly coated. Use extra milk during longer breaks to keep them adequately fed.
Refrigerate the container with a tight-fitting lid. The milk kefir grains should be safe and nutritious for around three weeks.
To resurrect them, strain them from the milk. Then, as standard, ferment them in a jar of fresh milk.
Pro Tips:
Switching back and forth between room temperature ferments and the fridge can cause long-term problems.
The grains can have that characteristic fridge odor after a week or two, and then it becomes more unbalanced from there.
If you do the ferment multiple times a month, the ferment will likely vary in consistency or flavor.
Also, if you keep the grains in the fridge for more than a month, they may develop problems.
If you want to take breaks more frequently than once a month, use the freezing technique or a mix of the fridge and freezer methods.
Long-Term Storage
How to freeze water kefir grains? You can extend the life of your kefir grains with our guide just below:
Rinse the grains in fresh, non-chlorinated water.
Using a paper towel, pat the grains dry.
Coat grains in milk powder in a jar or food-grade plastic bag.
Safely store the grains in a jar or bag in the icebox for a long time.
Pro Tips:
The goal of eliminating as much moisture as possible is to prevent water molecules from swelling during the freezing process and harming the grains' biological organisms.
It would help if you did not rinse kefir grains in water. Cleaning kefir grains does more damage than benefit since it eliminates the bacteria and yeasts' protective layer.
How To Prevent Kefir Grains From Going Bad?
This section will discuss sour kefir and how to freeze dry kefir grains without ruining them.
Keep A Close Eye On Your Grains
Keeping a careful check on your grains is the most straightforward and most effective technique to tell whether they are dead.
When determining whether there is a problem with your grains, you should rely just on your sight and your sense of smell.
It's a symptom of an issue if your kefir grains have an odd odor or stains.
If your grains have gotten moldy or have a rotten odor, the safest option is to discard them.
Attempt to Resurrect Your Grains
If you are starting to see danger signals, you may be able to renew your grains and avoid starting over from the beginning.
It's not as difficult as you would imagine reviving grains. In many circumstances, merely freezing your grains for some time will be sufficient to restore them.
Alternatively, you might filter the cultured milk. It is beneficial if you're attempting to resurrect your grains.
Make Sure You're Storing Your Grains Correctly
If your kefir cultures are constantly failing, probably, you're not correctly keeping your grains. It would help if you looked for a better option to tell you how to store kefir grains in freezer.
It will help store your grains in a cool, dark place away from direct sunlight. You also ensure that the area storing your grains isn't moist or humid.
This may affect your kefir cultures. If you want to produce your kefir, you'll need to store it properly.
When Grains Become Too Large, Break Them Up
You will be feeding your grains when you make kefir cultures. This may cause the grains to increase, causing problems for you.
If you see your grains are becoming more extensive, you should take the time to break them up.
This may be a complicated procedure. In many circumstances, merely shaking the container that stores the grains may break them up.
If that doesn't work, you should be able to break up the grains by gently rubbing them together with your clean fingertips.
Make Certain You Have A Trustworthy Guide
One of the most common reasons individuals struggle when attempting to produce kefir at home is a lack of knowledge.
You should look for a straightforward guide that will explain what you need to accomplish and what you should be looking out for.
Because there are so many individuals interested in creating their kefir, there are a lot of resources available. You may also discover video instructions that show you precisely what you need to accomplish.
Why are Kefir Grains Disappearing or not multiplying?
Although milk kefir grains frequently increase, no one can promise that they will multiply in the same way in every environment.
Factors all play a role in the final product's growth includes:
quality of milk
culturing environment
room temperature
climatic conditions
hygiene, glass jar shape
milk fat & lactose content
the proportion of kefir grains and milk
quantity of milk used for each fermentation
The major disadvantage of tiny kefir grains is the difficulty in removing kefir seeds from fermented milk. Separating the small particles from the protein and fat in milk is tough.
Furthermore, the kefir particle size reduces, allowing smaller particles to flow through the filter. So, the kefir particles will vanish in consecutive batches.
Can I Rinse My Kefir Grains?
This is something you should never, ever do. It harms them and removes the beneficial bacteria that allows them to grow.
After washing, they frequently die, stop reproducing, or fail to produce good kefir. Some kefir grains may survive, but they slow them down and harm them.
You should use fresh milk to rinse them. You may also feed them a prebiotic like Prebio Plus, which nourishes and strengthens them while making your kefir creamier, especially if it separates.
FAQs
Can kefir grains be frozen in milk?
Yes, you may freeze milk kefir grains. Depending on the method used, you can nurture them for several months to several years.
What can I do with too many kefir grains?
Feed them to your pets.
Share the grains with friends.
Make kefir grain smoothie.
Add them to your compost
Freeze your extra kefir grains.
Use it to make sour cream if you've done all of the above and still have plenty of kefir grains left over.
Greek yogurt is also a popular idea for using up extra kefir grains.
How to freeze kefir milk grains?
To store the kefir grains, use freezer-safe jars or zipper-sealed plastic bags. Fill the pot halfway with the dry milk powder, seal it, and keep it in the icebox for two months.
Here's the video where you can watch the processes and get some advice:
Can I eat the kefir grains?
Yes, and they contain various beneficial elements such as calcium and phosphorus.
How long can kefir grains survive without milk?
Grains may live for around 2–3 months at room temperature before becoming exceedingly challenging to resuscitate.