How To Tell If An Orange Is Bad? 4 Practical Ways To Check
Oranges are juicy fruits with a low price and an excellent nutrient content. How do you keep them if you purchase them when they are freshly picked?
Can these fruits go spoiled? If yes, how to tell if an orange is bad? If you are curious about the answer, this article will help you.
Let's dive into it to get valuable tips!
What Are The Health Benefits Of Oranges?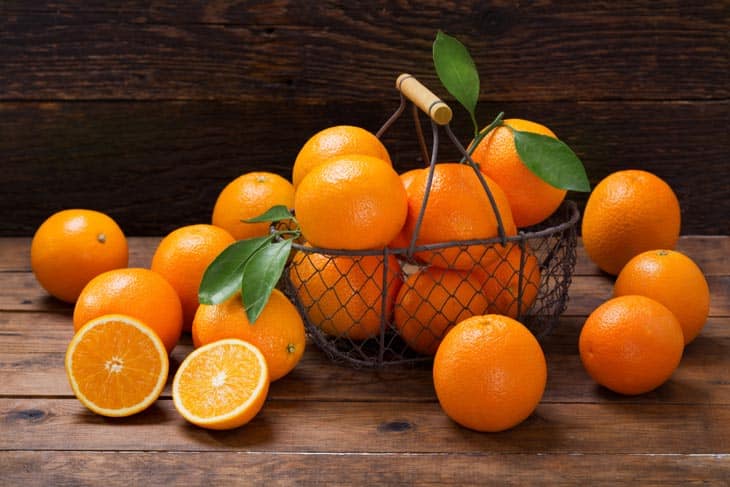 Oranges are one of the most beloved fruits with various types like Blood oranges, Cara Cara oranges, or Valencia oranges.
Apart from eating, you can use them for different purposes. For instance, you can use the orange extract to enhance your cooking or baking recipes.
Moreover, they are high in nutritional value. Below are some orange nutrition facts you should know. One medium-sized fruit may include:
Fiber (3 grams)
Protein (1 gram)
Sugar (12 grams)
Vitamin C (70 milligrams)
Vitamin A (14 micrograms)
Calcium (6%)
Potassium (237 milligrams)
Carbohydrates (15.4 grams)
They also bring various health benefits, such as:
Keep your cells safe from harm.
Help the body create collagen, a protein that remedies wounds and offers you softer skin
Make iron absorption easier to combat anemia
Boost the immune system, the body's germ-fighting defensive system.
Slow the progression of age-related macular degeneration, one of the primary causes of vision loss.
Assist in the battle against free radicals, which cause cancer.
How Long Does An Orange Last?
How long do oranges last? The answer depends on the condition and the environment you store them in. Scroll down to get an exact answer!
At Room Temperature
You can store your fruits from 1 to 2 weeks after harvesting. This exact duration is dependent on your location's climate, weather, temperature.
For instance, oranges won't last more than one week if the weather is too scorching or humid.
That's because moisture may cause damage to the fruits by producing mildew on their pods and penetrating the fruit.
On the other hand, they can survive around two weeks at room temperature if preserved in a dry, relaxed environment.
In The Fridge
When kept in the refrigerator, oranges have a longer lifespan than when preserved at room temperature.
The reason is that lower temperatures limit microbial contamination and mildew. So, these fruits can be in the refrigerator for up to 3 to 4 weeks.
When keeping oranges in the fridge, ensure their peel is devoid of blemishes and does not feel soft when touching.
In The Freezer
How can you keep oranges fresh for longer? Let's see what happens if we put them in the freezer. The strategy keeps these fruits fresh for more than a month.
However, you shouldn't freeze whole fruits because you may ruin their flavor and texture.
Besides, you should also keep in mind that you should only apply this storage method when you have an abundance of fruits.
If Canned
Oranges have a storage period of roughly one to one and a half years if you dry and apply the proper canning method.
This way is the finest and most successful strategy to prolong the expiration life of these fruits out of all the methods provided.
How To Tell If An Orange Is Bad?
Do oranges go bad? The short answer is yes! Like other fruits, oranges can quickly go rotten if improperly stored.
After they've been harvested, fruits stop ripening. So, it's better to distinguish a ripened one from a bad one.
If you are not sure how to spot a ripe orange, you can watch this video to get valuable tricks:
How to know if your fruits go bad? Typically, you can quickly check via visual check, smelling, gently squeezing, or tasting.
If you are unsure how to determine that orange is rotten, you can consider easy-to-follow ways below.
Visual Check
If you notice any dark discoloration or moldy areas on the fruits, they are beginning to decay.
Furthermore, the rind may be withering, another symptom of rotting fruits.
Some oranges may have tiny scratches on the peels. Yet, this appearance is ok.
That's because tree branches scrap on them. As long as their peel is not open, they are still in good condition.
Moreover, when your oranges go rotten, you might detect green mildew developing on them if they're previously cut into slices.
Smelling
The smell of moldy or putrid oranges indicates that they have no longer been edible.
Fresh oranges should not release many scents. If they have not gone bad, they emit a mild citrus aroma.
Any unpleasant odor emanating from your fruits indicates that they may have turned rotten.
While you smell from the outside, if they're bad, the inside won't get any better, so throw them in the rubbish.
Gentle Squeezing
Select one and gently squeeze it. It should be firm. If it is rotten, you'll see mushy, soft areas on them.
When you leave them to deteriorate for an extended period, they may begin to exude juices. Fungi and mold will then thrive on them.
Tasting
If everything appears to be in good condition, taste it is the last way. That fruit is ok if it scores with high marks.
You can decide whether you consume it or throw it away if its taste is relatively so-so. If the fruit tastes terrible, you should throw it away.
How To Store Oranges?
As you can see, citrus fruits quickly go bad if you don't store them in ideal conditions. It means that the storage environment and method are essential.
How to store oranges properly? You can store them in the fridge or freezer.
Besides, it's ok to keep them at room temperature as long as the temperature is not too high.
Here are some valuable tips for storing whole and cutting oranges. Let's take a closer look!
Whole Oranges
Whole fruits may be good for some days or up to a week before going bad at room temperature.
As a result, if you want to consume them fast, you may put them on the countertop or in the cupboard.
On the other hand, whole fruits are best kept in the refrigerator. To keep them in the fridge, follow these instructions:
Never wash your fruits before putting them in the refrigerator since excess moisture accelerates the spoilage process.
Put the dry fruits in well-ventilated bags or airtight containers.
Refrigerate for roughly a month in the refrigerated section.
Cut Oranges
Storing whole oranges may be inconvenient for subsequent use, so cutting them into small pieces is better.
It's worth noting that the best-before date of cut citrus fruits is significantly less than that of whole ones.
Here are tips to store cut oranges you should follow to get the best quality:
Use reusable storage wraps or plastic wraps to wrap the slices tightly.
Put all wrapped pieces in the airtight container.
Store it in the fridge for approximately 3 – 4 days in the refrigerated section.
How To Freeze Oranges?
If you need to eat up many oranges before the spoilage time, freezing may be the best solution.
They can be in good condition for up to one year if you apply this storage method. Here are the instructions to follow:
Peel or thoroughly wash your fruits.
Cut them into slices or wedges.
Place the pieces on a cookie tray in a thin layer, trying to ensure they don't overlap.
Cover them with plastic wrap and place them in the freezer for four hours. If possible, leave them overnight.
Place the frozen fruits in a freezer container. Remember to write the date on it. Your fruit can last for one year with this method.
In A Nutshell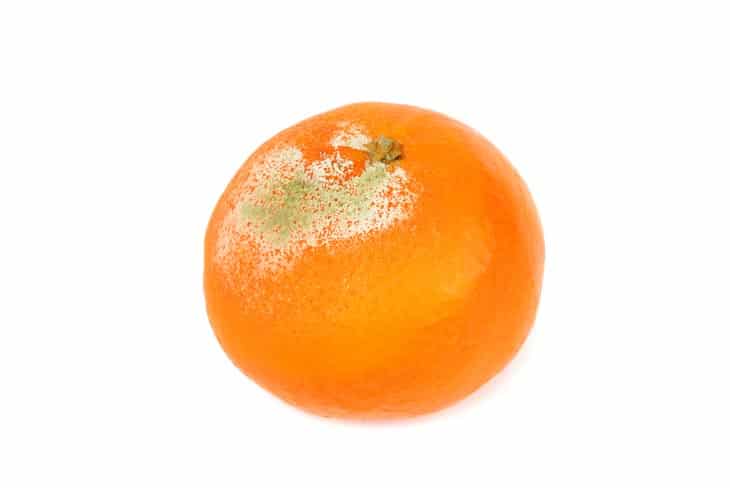 Eventually, this article has addressed your question with a complete guide on your irritating question: How to tell if an orange is bad?
You can check its appearance, smell it, gently squeeze it, or taste it. It is rotten if it gets discolored or appears to white mold spots.
If you notice any signs, it's best to throw your fruits away to avoid unwanted health issues. Thank you for reading!