Peanut butter is creamy, easy to bake with, and also complements well with other ingredients in recipes. But what if your peanut butter is too thick?
Below, we'll elaborate on ways to thin peanut butter, so you can use it for your recipes easily. Keep on reading!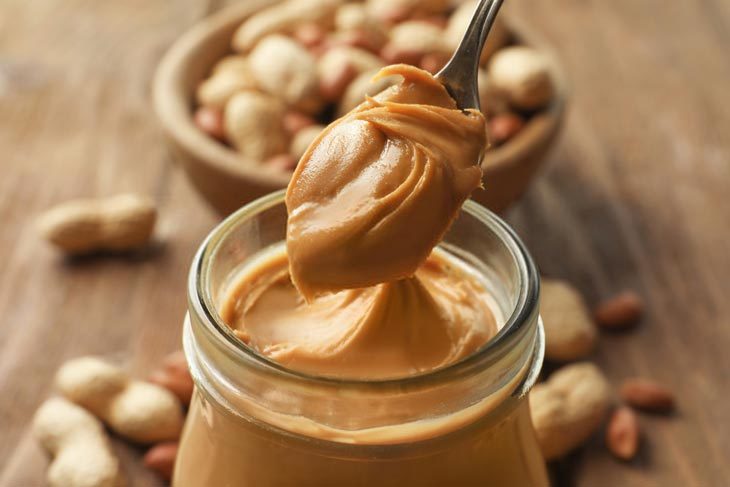 How To Thin Peanut Butter?
Read down to learn about a few ways to thin peanut butter easily.
1. In A Microwave
The first method we want to introduce is microwaving peanut butter. We believe this is the easiest and most approachable method, as most households have a microwave.
You don't need many tools to thin butter in the microwave. Here is what to prepare: a spatula, a microwave-safe bowl (important!).
First and foremost, scoop the butter that you need to thin into the microwave-safe bowl, then place the bowl into the microwave. Set the time to 30 seconds, and the heat is at "high" mode.
After 30 seconds, take out the bowl using protective gloves. Use a spatula to mix the peanut butter evenly for better distribution. Please don't take this step flimsily. Otherwise, the butter later will have an inconsistent texture.
If you are still unsatisfied, ​​try heating peanut butter once more. The recommended time is 30 to 40 seconds.
2. On A Stove
How to make smooth peanut butter without using the microwave? Well, we have another simpler option – reheat it on a stove. You need a saucepan, a spoon (or spatula), and a stovetop.
After preparation, the first step you must do is scoop out the amount of butter you want to thin and put it on the pan. However, don't turn on the heat yet!
Waiting for about 1 to 2 minutes for the butter to "defrost." Then, turn on the stovetop at the lowest temperature. With the spatula or big spoon, stir butter continuously and consistently to avoid burning or clotting peanut butter.
When melted peanut butter turns to a thick liquid, remove the pan from the heat and turn off the stovetop.
3. By Whisk
Are you scared of the heat? If the answer is YES, the first and second method is not the right way for you. Why not try whisking the butter instead? In case your recipe does not require butter to be hot, you can consider using this approach.
You must have a mixing bowl, a whisk, and strong arms (yes, you must have so much power to whisk).
When the preparation is ready, move on to the first step. Take the desired quantity of butter into a mixing bowl, then whisk. Using the most power of your arms to whisk the mixture. You can add other liquids like water, oil, or milk to dilute the butter mixture and make your thinning job much easier. That's all you need to do!
4. With Peanut Oil
If the recipe you are cooking does not require dry ingredients, you can consider adding peanut oil to the butter to make melting easier.
Even though peanut oil is the best option, you can also use canola oil, toasted sesame oil, and olive oil to dilute the peanut butter.
Here is our tip: first, use a spoon to stir the butter with oil slowly and slightly. Next, when the peanut butter is quite thin, whisk until that butter is as thin as demanded.
5. In A Blender
You normally use a blender to ground and blend food into juices. However, do you know that you can also thin peanut butter by blending? Yes, you can!
Grab a spatula, scoop out the peanut butter amount you demanded and pour it into the blender. You can add water, oil, or water to the mixture as well.
Ideally, two tablespoons of liquid are equivalent to one spoonful of butter. If you want the butter to be thinner and watery, keep adding liquids.
Consequently, blend the mixture of butter and liquids in 30 seconds. You will get the liquid peanut butter you desire!
6. Food Processor
Are all approaches mentioned above not effective for you? If yes, let's try thinning butter with a food processor. Personally, we vote this method as the fastest one among all approaches mentioned in this list.
The preparation is the same as the previous method – using a blender. You need a food processor machine, a spatula, or a big spoon.
Like the blending method, you have to scoop the butter into the machine, then turn it on for 30 seconds to 1 minute. Finally, take out the peanut butter, and it will be thin enough for eating.
7. By Ladling
The ladle can be used to soften peanut butter – do you know that trick? Today, we will guide you on how to do so.
If the recipe you are cooking doesn't require the dish to be dry, you can consider adding a bit of warm liquid, like oil, water, milk, and blend it well with the peanut butter.
Start by putting the demanded amount of butter on the heat-resistant bowl, and place the pan on the stovetop. Next, pour liquids on the stovetop and warm them on low to medium heat.
Once finished, pour liquids into the bowl of butter. Stir the butter with warm liquids thoroughly. The warm peanut butter will be both runny and creamy.
How To Make Peanut Butter Thinner? Tips And Warning
Suitable liquids for diluting butter: water, milk, oil, lemon juice, yogurt, and honey.
Vinegar or soy sauce are also some recommended sauces for a salty dish.
Avoid using high temperatures because it can make the butter burnt, and the taste will be lost.
Can I Mix Peanut Butter With Water? You can, but you have to be mindful of that. If you add a proper amount of water, the butter will be as thin as expected. However, if you overdo it, the peanut butter and water mixture will taste bland, runny, and lose sweetness.
Some Peanut Butter Recipes At Home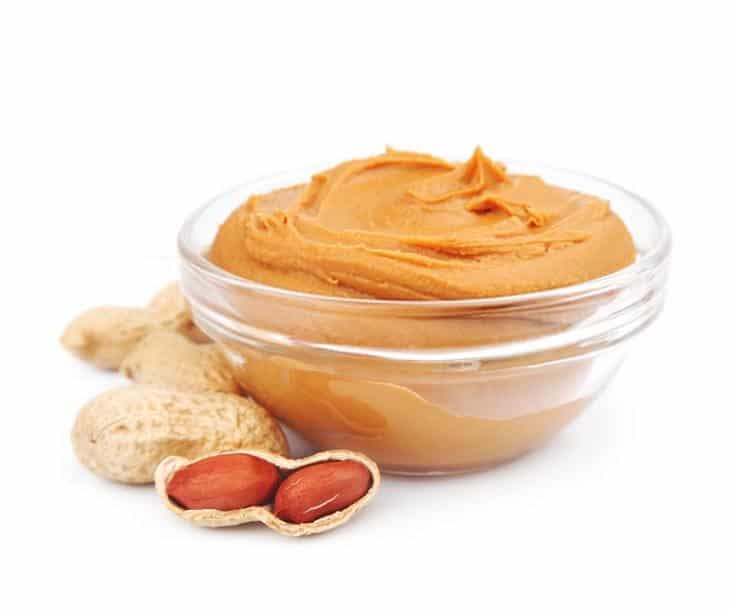 1. Homemade Peanut Butter Syrup Recipe
Let's walk through the procedure of making butter syrup.
Ingredients:
a cup of white sugar
a cup of water
3/4 cup of peanut butter
a spoon.
Instructions:
In a big, deep bottom pan over medium heat, pour sugar and water.
Stir constantly until sugar is dissolved.
Once dissolved, add the amount of peanut butter you are planning to thin, mix them.
Keep on stirring until it brings to a boil and bubbles are emerging (about 10 to 15 minutes)
Remove the final product, and store it in a closed-lid jar. No need to refrigerate.
2. Peanut Butter Cream Cheese Fruit Dip – Apple Dip Recipe
Ingredients:
Fat cream cheese, softened, 8 ounces
1/4 cup granulated sugar
1/4 cup of peanut butter (chunky, crumbly or smooth – no matter!)
Half a cup of chopped peanuts (dipped with honey, roasted, or plain, whatever you like!)
3/4 cup of light brown sugar
1 teaspoon pure vanilla extract
Instructions:
Mix all ingredients except peanut butter together.
Next, use an electric mixer to blend them until smooth.
Pour peanut butter into the blend, set up the machine at low speed, and run.
3. Homemade Peanut Butter Ice Cream Topping Recipe
Ingredients:
Half a cup creamy peanut butter
1 teaspoon vanilla extract
Condensed milk, a full cup
5 tablespoons water
Instructions:
Pour condensed milk and butter in a saucepan, turn the heat to low mode. Stir until they are blended completely.
Add water and vanilla to the mixture and continue stirring.
After 5 to 10 minutes, remove the pan from heat.
Transfer that sauce to a jar and let it cool down.
Conclusion
How to thin peanut butter? In short, there are seven ways to do this task. Just research all of them carefully, based on your demanded recipe as well as the remaining ingredients in the pantry, to choose the best approach.
In our opinion, the first and second method seems to be the most compatible for all recipes because you don't need to worry about whether your recipe needs to be dry or not.
How about you? What is your opinion? Have you selected suitable methods yet? Could you share with us?