7 Best Red Chili Substitutes That Will Make You Surprised
Red chili substitutes are always a hard riddle for any cook in the universe. Because the red chili pepper replacement must bring out the flavors and the hot and pungent spice of it, only then can the food taste be correct.
The substitutes become extremely important when you expect to put the taste on point for specific cooking styles like Western cuisine or Asian cuisine.
Red chili pepper alternative will surely be one of the crucial first-class ingredients that decide whether your meal is mouth-watering or not.
Understanding professional and home-chef concerns, in the article, we will support you with seven food ingredients which are the best red chili pepper substitution that you can find effortlessly in any grocery store.
A Synopsis Of Red Chili Pepper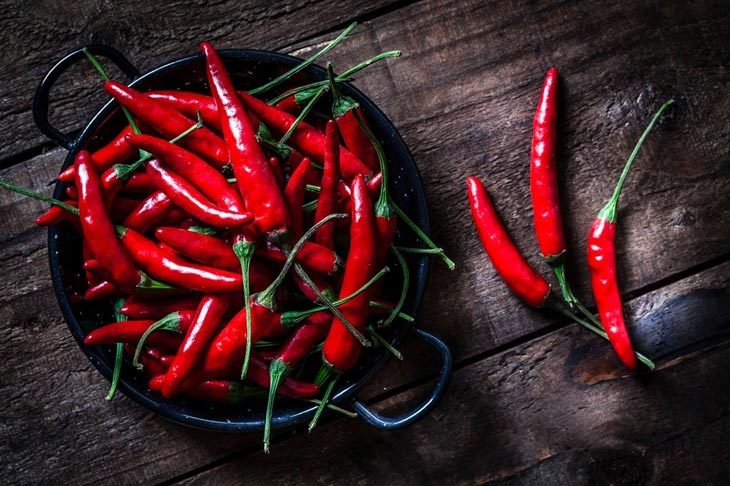 Origin
Firstly, let's take a snapshot of the main character's history.
Red chili, which is also famous under chili pepper, chile, or just chili, is a berry-fruits. They belong to the fleshy fruit category.
The fruit originally comes from an idiosyncratic Mexico where Best Animated Feature Coco inspired if you remember. The country's food reputation is also very delicious, tasty, and spicy because of red chile.
Nutritional Value
Chile offers rich vitamins and high amounts of minerals. The most prominent is the appearance of vitamins K, C, and Capsaicin substance in the nutritional content it brings.
According to USDA, 100g of pepper contains up to 64.8mg of ascorbic acid, which is higher than about 1.7 times vitamin C (about 38.7mg) at the same portion in lemon juice.
It supports the immune system, reinforces our protective barrier thanks to dense Vitamin C content.
Besides, with a high level of potassium mineral (322 mg per 100g ration), chile can reduce the risk of heart disease as it can eliminate blood clots and even blockages.
Moreover, Capsaicin, which provides a spicy kick every time we consume, can boost your metabolism.
Therefore, overall, chile is good for health if the intake amount is proper. Otherwise, look out for the hot burning mouth and health effects!
Uses In Cooking
In cooking, it primarily applies as a spice for dishes under raw, powder, flakes (crushed red pepper), or hot sauce like Gochujang form.
However, the fruit can sometimes appear in dessert recipes with chillies. It provides a hot, sour, sweetness flavor that is unique, unmistakable, and alluring over other spices.
Chile gradually becomes an indispensable component in the kitchen. So, which fruit can substitute for red chili pepper?
Red Chili Substitute – 7 Options
1. Serrano Pepper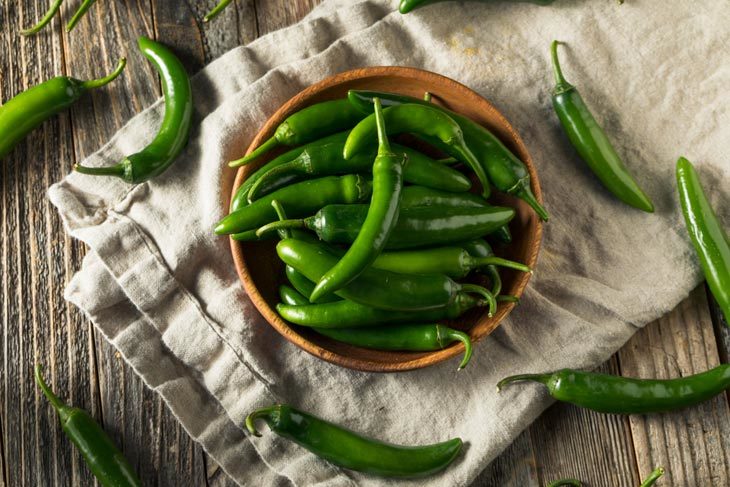 Serrano comes at the top as the best choice of red chilies substitute.
Its name is a variation of the word "sierras" – range of mountains since Serrano native land was a mountainous area.
Still, the fruit is super ubiquitous in the country of Biden, Spanish, Europe, and Asia. Hence, you can find it readily in supermarkets and any grocery store nearby you.
It also can be a fresh red chili pepper substitute because it displays a light, fresh flavor profile with a grassy tone. People love to eat it raw.
Speaking of hot scale and flavor, it is like a blood brother to chile. Except for one thing, the fruit's Scoville scale is super higher.
Chile's heat level ranges from 2500 to 8000. However, Serrano runs from 8000 to 22000. So, you must consider adjusting usage amounts to fit your dishes if you don't want to be a fire-breathing dragon.
2. Cayenne Peppers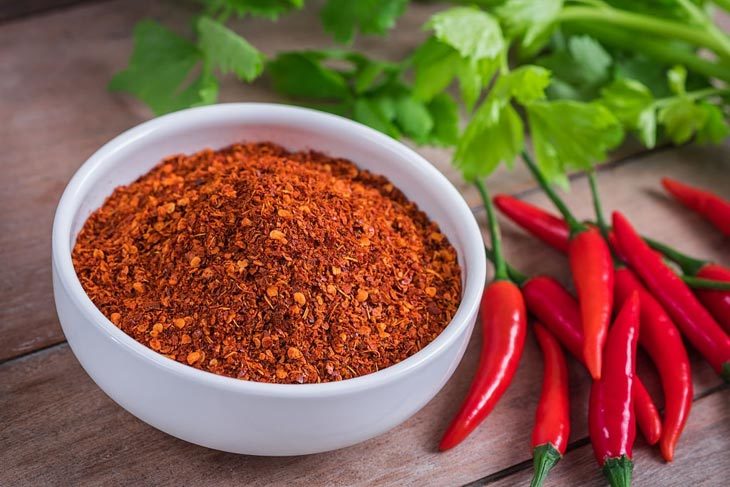 The second-best red chile pepper substitute must be Cayenne peppers.
With typical style, wearing a red cover, matching skinny body, and a pointy tail, recognizing the fruits is just a blink of an eye.
The pods can survive well under frost protection. People in the temperate zone grow it annually, providing a sufficient supply for spicy lovers like you.
Cayenne can be harvested when it is green even though the taste is not really on fire and even pretty faded. So, red or close to red is preferred in choosing red pepper substitute.
If Serrano is mildly hot, then by 30,000 to 50,000 Scoville measurements, Cayenne surely becomes moderately hot. The heat range differs among Cayenne types.
Additionally, it's also subject to soil quality and growing regions' conditions. Thus, you should taste the fruit before adding it to your recipe.
Cayenne Peppers are available in both fresh, flakes, and dry forms. The most familiar Cayenne dried taste is the chile you eat in pizza.
This characteristic facilitates purchasing searching. Correspondingly, the pepper is also a well-thought-out substitute for red pepper powder.
3. Pequin Chili Pepper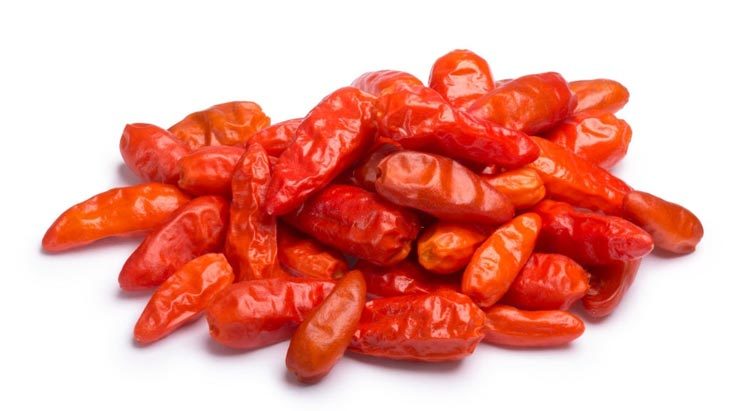 Along with Serrano Pepper, Pequin's native soil is Mexico. Specifically, it is from Tabasco state, which is at the same time a famous hot sauce brand in the world.
It is not easy to find this sub on the market, and the price is very expensive because of the shortage of supply.
The implication behind the name of "Pequin" is "small" because the fruit size is just around 2 centimeters.
However, it is small but mighty. Based on the Scoville band, Pequin has a heat range from 30,000 to 60,000. Consequently, it is classified as hot pepper and provides serious heat.
As the pod ripens turns hotter, it is often applied in meals under smoked or flakes or dry form. Though, its best method of adding to cooking goes with sauce.
For the above reasons, Pequin becomes a perfect chile pepper substitute.
4. Jalapeno Pepper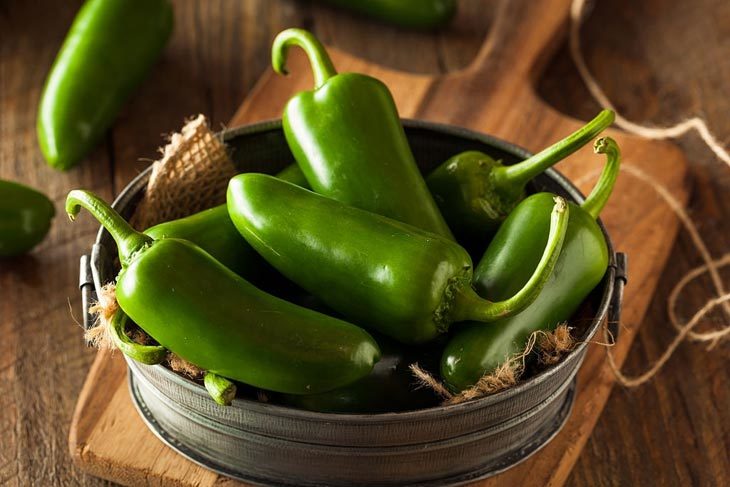 If you've ever researched how to eat a Taco standardly or ingredients of Taco, you might have heard of Jalapeno Pepper. It is an indispensable chipotle in classic Taco. The unique taste creates the signature for well-known Mexican cuisine.
Jalapeno Pepper or also called Jalapeño pepper, is from Mexico too.
The pod belongs to the medium category, and it offers a slight chocolate flavor that you find hard to find from other peppers.
With a nearly similar Scoville number, from 4,000 to 8,500, Jalapeno pepper and red chile pepper are a smart substitute for using every day. It even matches almost every dish recipe because Jalapeno's heat is not too serious.
5. Tien Tsin Chiles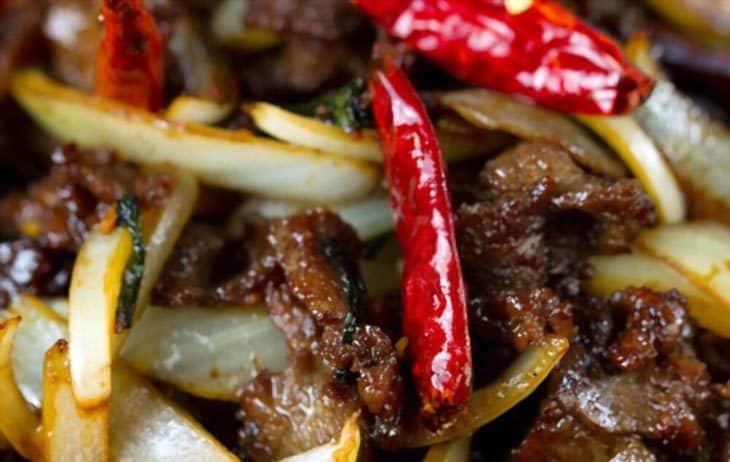 Tien Tsin Chiles or well-known under a Chinese name 天津辣椒 is chile from a province of China: Tien Tsin (Tianjin).
Long and tiny outside, however, it can explode the hot inside up 50,000 – 75,000 at Scoville scale.
The fruit matches best for East Asian recipes. Perhaps you have heard of Kung Pao sauce in Kung Pao Chicken. The hot flavor comes from Tien Tsin Chile.
Looking for the divine taste and amazing flavor as close as red chile pepper, don't hesitate to try Tien Tsin Chiles.
In addition, the fruit's special heat and freshness are also very common in Thai food. As a result, Tien Tsin Chile is one of the substitutes for thai chilis in general and thai red chili substitute in specific.
6. Cascabel Chili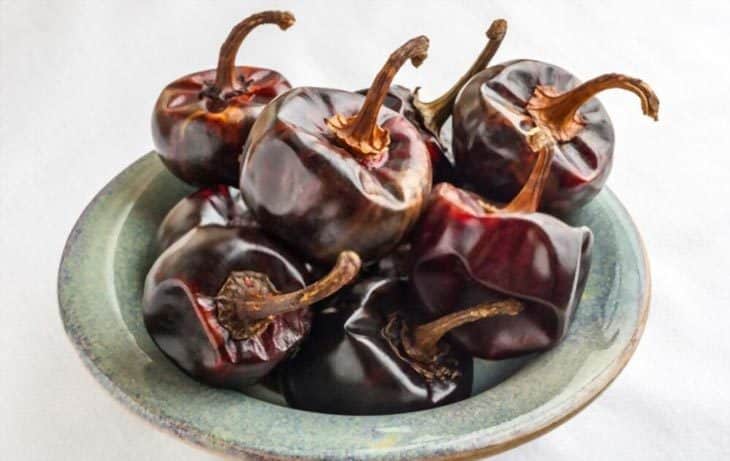 Cascabel or bell-shaped chile comes from South American.
The reason why the bell fruit jumps into the red chile pepper's replacement section lies in its subtle hot level but retains the heat of the chile.
The Scoville number expands from 1,500 and 2,500; it's not hot as Serrano but hotter than Paprika.
Normally, cooks will roast it before mixing it with other dishes if they expect a nutty flavor.
These fruits do their best to support Mexican cuisine. Although it is common in Mexico and America and not a big name in other countries, you can find it easily online via any eCommerce platform.
7. Paprika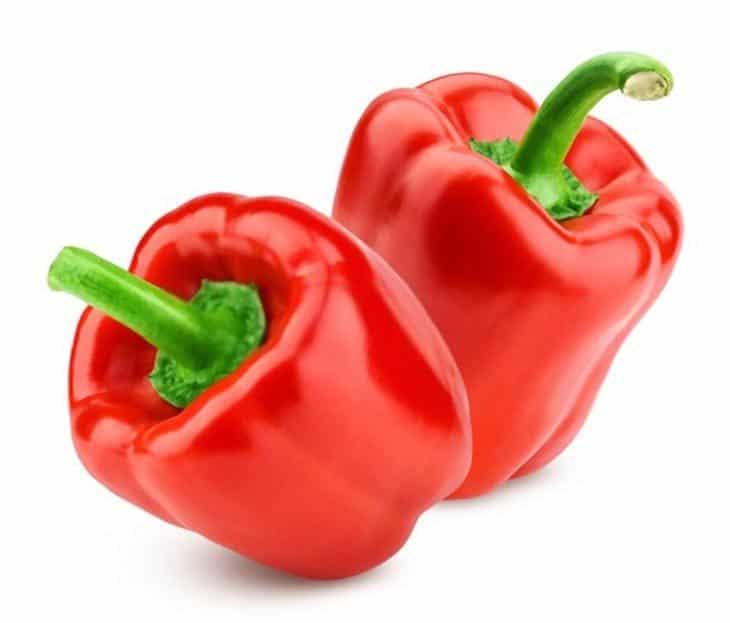 Last but not least on the list is Paprika.
The fruit is different from the above chili pepper substitutes. Its Scoville level is the lowest, just around 250 to 1,000.
For a hot spice-aholic, the Paprika heat scale is quite mild or even sweet. However, the pungent odor remains, and the color added to the dishes is on point.
The best-known Paprika form on the market is produced in ground or dried type. You can add it to fish, chicken, vegetables, etc. The flavor will surely be enhanced.
Still, please remember dissimilar Paprika have different heat levels. Don't forget to taste it before selecting it as a replacement.
Conclusion
Seven red chili substitutes are seven choices for you, grabbing a chance to complete your dish without any barriers. It is all up to your recipe to decide how much and what type of chile replacement you should add.
Overall, for the easiest and best result, you can ponder Serrano and Cayenne Pepper. Penguin should be added to your shopping basket with a bit hotter and unique flavor. Jalapeno Pepper is cheaper and annually used.
The hottest and spiciness calls for China's chile – the Tien Tsin. Sweeter flavor but still heat well belongs to Paprika.
Finally, the mildest taste yet nutty, at the same time, is a challenge to cook if you are not a culinary expert of Mexican food: Cascabel.
May your dishes be as diverse and unique as each of the chilis above!