Southern comfort is a famous drink that is widely consumed around the world, especially in the United States. Made in the 19th century by a bartender, this drink provides you a sweet, spicy, and unique taste that you never forget.
With such a special flavor and aroma, it is challenging to find a southern comfort substitute.
However, the hard task doesn't mean it is an impossible one, and this rule applies well to the case of finding southern comfort substitutes.
We have listed out the top 10 beverages that can be the great candidate to substitute southern comfort.
In this post, let's discuss our top 10 southern comfort replacements and find out which one is the most compatible to replace southern comfort in recipes!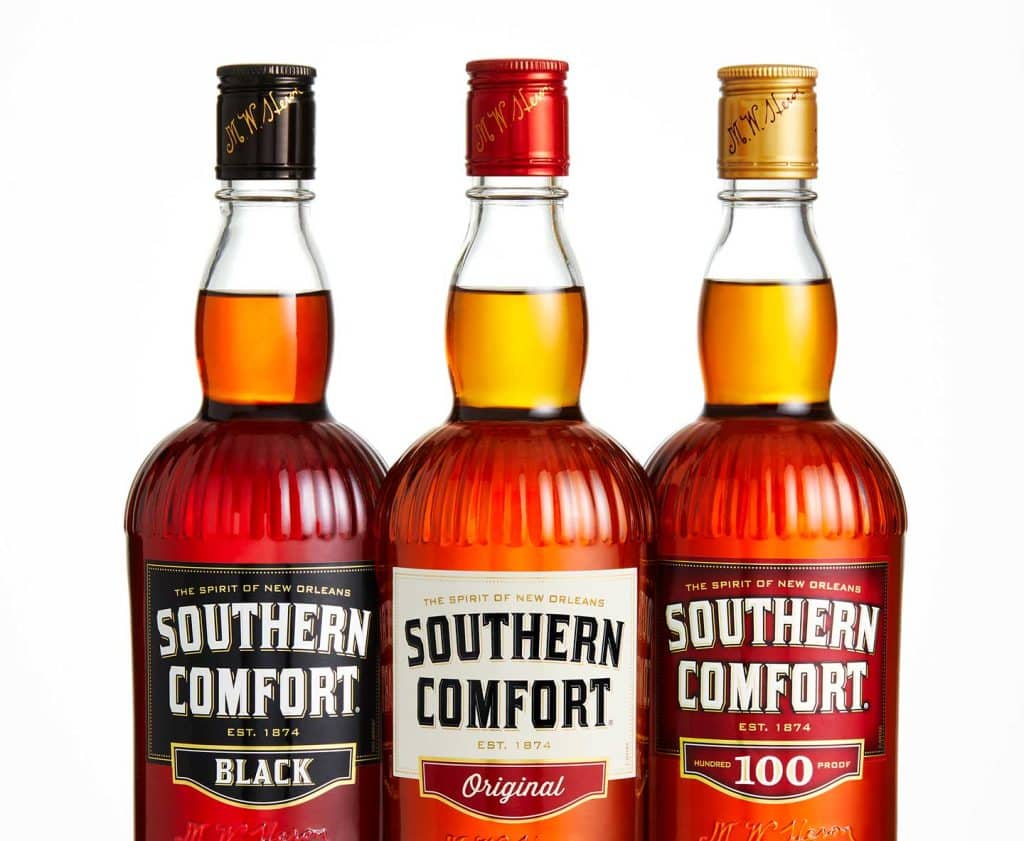 What is Southern Comfort?
Originating from New Orleans, the Southern Comfort was invented in 1874 by the bartender Martin Wilkes Heron. Since then, it has been used widely in making cocktails, especially the Alabama Slammer.
You may once wonder, "What does southern comfort taste like?", "Is it really outstanding compared to other drinks?" when seeing its popularity in cocktail recipes.
Based on our experience, Southern Comfort is sweet, with a light bitter and spicy staying on the tip of the tongue after swallowing.
What is southern comfort classified as? Well, southern comfort has many different varieties, but the most common and original base is whiskey. So, many people may determine that the southern comfort is whiskey.
However, in fact, you can also make southern comfort with bourbon. Recently, bourbon-based southern comfort is also popular in the professional bartender world.
The only difference between Southern comfort bourbon or whiskey is its bitterness, tanginess, and alcohol by volume.
So, if you ask us, "Is Southern Comfort a bourbon?" Then, yes. Is Southern Comfort a whiskey? Well, not wrong, though.
Let me tell you a fun fact: the earliest southern comfort-based cocktail is the Scarlett O'Hara, named after this famous character to tribute the novel's film adaptation in 1939.
There are southern comfort cranberry juice, fresh lime juice, and a few slices of lime wedge.
What Are The Top 10 Southern Comfort Substitutes?
Base on taste and usage purpose, here is the best Southern Comfort substitutes:
Maker's Mark
Bulleit
Knob Creek
Amaro Di Angostura
Yukon Jack
The Macallan
Laphroaig
Jameson Whiskey
DIY Southern Comfort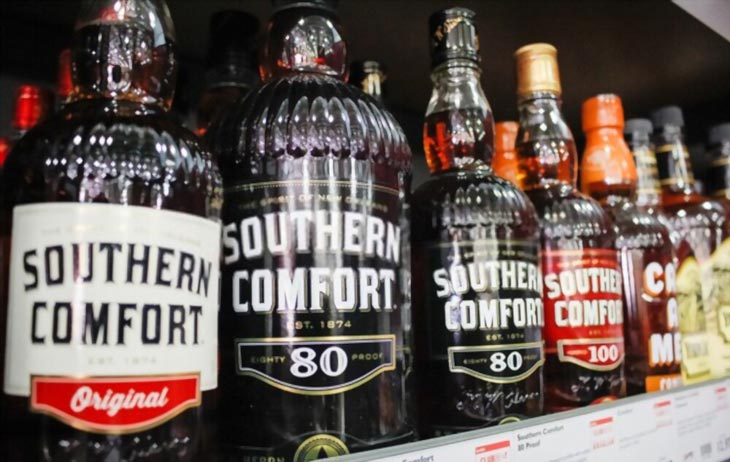 1. Maker's Mark
Maker's Mark is a whiskey-based bourbon drink, first created in Kentucky, the USA, in 1953. In the expert world, Maker's Mark is proudly chosen as the top-rated drink.
Typically, the Maker's Mark has to undergo a brewing process in at least two years and a maximum of 7 years. The standard to produce a Maker's Mark is high since it is homemade, not mass manufacturing.
There are two ways to taste the maker's Mark. The first approach is to drink it "neat," which means "drinking the wine directly without any additional ingredients." The wine is poured directly into the glass and tastes immediately.
Secondly, let's try serving it icy. For those who cannot endure the ABV of the maker's Mark, we advise you to add ice cubes into the glass, then pour wine into the cup to enjoy the lighter Maker's Mark.
2. Bulleit
Bulleit is the most popular southern comfort alternative on the list. In fact, Bulleit is a whiskey-based bourbon drink, so the taste and base are similar to southern comfort, right?
To be specific, the Bulleit is sweet and smoky. Compared to the southern comfort, it is more sugary and also richer.
At the first sip, we are surprised by its mellow and oaky fragrance. The more you drink, the sweeter, honey-like it becomes.
However, one special thing about the Bulleit is that no matter how high its ABV is, we don't feel it hot in the throat at all. Amazing!
3. Knob Creek
Compared to other wines on the list, knob creek is the most expensive and high-end drink. Based on our experience, it provides a similar taste to southern comfort – sweet but mild, with a comforting aroma.
In our opinion, the knob creek tastes quite "neutral." Even though there is a bit of sweetness staying on the tip of the tongue, but it is insignificant.
We recommend using it neat to enjoy the knob creek's taste at its most authentic state. The more seasoning you give, the less tasty it is.
4. Amaro Di Angostura
The next recommendation on the list is Amaro di Angostura. With such a Spanish name, you may guess where it comes from, right? No doubt, Amaro di Angostura is a Caribbean drink.
In terms of taste, the Angostura is sweet and bitter, but the sweetness overshadows it. Besides, what makes people love it is the earthy and rooty aroma of the drink.
Just imagine drinking a cup of wine, feeling its sweetness with a mild bitterness at the tip of the tongue, while enjoying the distinctive, comfortable fragrance – how great it is, right?
Compared to the southern comfort, we believe that southern comfort is less sugary than the Amaro di Angostura.
5. Yukon Jack
Yukon Jack is a Canadian wine made from honey and whiskey. With such interesting ingredients, the drink serves a strong sugary taste with a fruity aroma.
To add-in, the Yukon jack is basically the product of squeezing and grinding fruits like grape, orange, lime, etc., together, so you don't need to worry about its alcohol level.
If you want a mild southern comfort substitute, then choose Yukon jack – it is sweet, fruit-flavored, and smells good.
6. The Macallan
Made from malt, barley, and pure water, undergoing the 3-years brewing procedure in oak barrels, the Macallan is the high-end wine that you must try once.
This wine is famous for its long, strict, and complicated process of production. All the ingredients made are top-notch, high-quality ones, and the fermentation stage must be extremely sterile to make the final product.
Talking about its taste, the Macallan provides the magical flavor – raisins, vanilla, honey, barley, malt, nutmeg, cinnamon, and green pine blending altogether in one drink.
7. Ole Smoky Moonshine
Ole Smoky Moonshine or Ole Smoky Tennessee Moonshine is our choice to suggest to you if you are seeking southern comfort.
Contrast to its name – smoky, which may make you think about strong, bold wine; this alcoholic drink is extremely light.
To be specific, right after the first sip, you will feel the corn smell and the corn-flavored sweetness. Based on our opinion, it is one of the best-smelling wines we have ever tried.
If we are new to the wine world, and cannot endure alcohol well, then the ole smoky moonshine with corn flavor is our best choice.
8. Laphroaig
There are two wines that share the same vanilla sweetness on this list – Macallan, and Laphroaig. However, the Laphroaig is cheaper, smokier, and oakier.
When we sip the first Laphroaig cup, the smoky aroma arises. It smells so amazing and surprising that we can never forget. When swallowing the wine, you will find it bitter, and spicy, and a bit salty, too.
To illustrate Laphroaig's flavor, then it is the combination of cardamom, black pepper, and chili with a drop of vanilla.
9. Jameson Whiskey
Just from the name, you can find why we choose it as a southern comfort (and also Yukon Jack substitute), right? Southern comfort has the whiskey base and this Jameson drink, too.
Within the first swallow, we can find that it is vanilla-flavored sweet with a bit of bitterness at the tongue's end.
There is no strong scent from the liqueur, which is a strong point since many people feel uncomfortable with alcohol's smell.
Typically, people prefer using the Jameson whiskey "on the rock" – with ice cubes adding in, and we agree on that too. There is no distinctive taste when serving neat, so it's better to mix this whiskey with others.
10. DIY Southern Comfort
Finally, if you still find other selections on the list unsuitable, why don't you make the southern comfort yourself?
Yes, we literally mean that you can make the drink at home without complicated procedures.
First, you need to prepare a mixing cup, 1/8 cup of bourbon, 1/8 cup curacao, a fresh lime, sugar, and fig spread. Then, cut the lime into two halves, squeeze the first half into juice, and cut the other half into wedges.
In a big mixing cup, pour the prepared portion of bourbon, curacao, lemon juice, and fig spread. Season with a tablespoon of sugar if you want more sugariness.
Blend the mix well, and top it up with the lime wedges. The DIY southern comfort is ready to serve.?