8 Best Tomatillo Substitute That Will Make You Surprised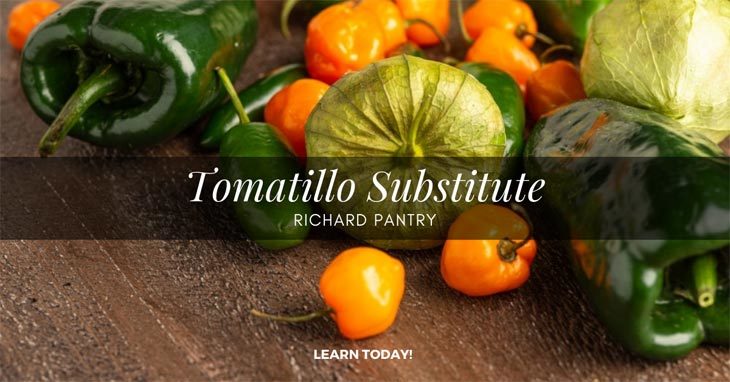 Tomatillos might be an exotic fruit with a distinctive flavor, but it is not a must-have ingredient in Mexican dishes.
If you can't find tomatillos for your recipes, check out my tomatillo substitute list below.
What Does A Tomatillo Taste Like?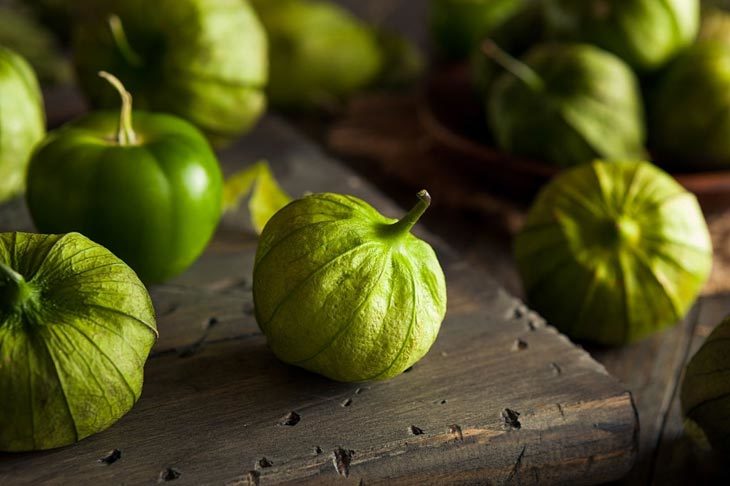 Tomatillo is also known as Mexican tomato or jamberry, so are tomatillos the same as green tomatoes? Is a tomatillo a green tomato?
Although they might have a similar name, tomatillos are quite different from our regular red and sweet tomatoes. What is tomatillo, indeed?
From the Physalis philadelphica (also known as physalis ixocarpa) species, tomatillo is a small and rounded fruit consisting of tiny seeds. It belongs in the nightshade family, which is related to tomatoes, peppers, and potatoes.
Tomatillo has different sizes and colors like purple, green, and yellow tomatillos. Still, the most popular type in the market is the green version which is especially preferable in making Mexican salsa verde.
Although there are differences in terms of taste among different types of tomatillos, in general, this golf ball-size fruit has a sweet and tart flavor profile with a citrusy note.
Instead of sweet and soft meat like ripe and unripe tomatoes, Tomatillos are vegetal with dense texture making them perfect for many creamy sauces.
When comparing green tomato vs tomatillo, I find that the green one has a much more sour and acidic flavor than other tomatillos. Perhaps the signature sourness is why green tomatillos are used widely in raw, roasted, jammed, and blended recipes.
When preparing tomatillos, you need to discard the husks wrapping the Kesh. Then you can rinse the fruits with warm water to remove the sticky film.
Once they are ready to be used, you can keep their bright flavor by using raw tomatillos in your salad. You can also tone down the sourness by grilling or roasting whole Tomatillos with fresh milk or condensed milk for your enchilada, chilaquile, tomato sauce, and salsa verde.
8 Best Fruits and Vegetables Used As Tomatillo Substitute
Tomatillo plays the main ingredient in many Mexican dishes. However, you can always substitute it with the ingredients below.
1. Green Tomatoes
The first one on the list is Mexican green tomatoes. As ripe tomatoes and Tomatillos share the same family, it is no surprise that green tomatoes are the perfect substitution for Tomatillos. Green tomatoes are unripe tomatoes that will give you a similar bright green skin for salsa verde.
When comparing green tomato vs tomatillo, you will find many similarities in terms of flavor and texture. Green tomatoes have a slight sour taste which is not at the same level as tomatillos. However, these underripe tomatoes are crunchy and thick to the bite that can replicate the flesh texture of tomatillos.
So, considering their slight difference in taste, you can substitute green tomatoes for Tomatillos if you're working on grilling or roasting dishes.
However, in case you prefer the sourness of green Tomatillos, you can also add more acidity to the green tomato recipes like fresh cilantro. Usually, I tend to add a tablespoon of lime juice to mimic the flavor of tomatillos in sauces, soups, and green salsa.
2. Canned Tomatillo
Another fantastic tomatillo substitute for salsa verde is canned tomatillo. What's a better substitution than their canned product?
Canned tomatillo is precooked tomatillo which may not deliver the entire freshness that you want in specific recipes. Still, if you're going to cook it for salsa verde or sauces, then canned Tomatillo is a great option you should look into.
You can easily find canned Tomatillo in many Hispanic grocery stores with a can of tomatillos diced and precooked. As they are already processed, the fruits are softer and more yielding in terms of texture. Some canned versions also lose the bright green color of fresh tomatillos, so you should note them before buying them.
Otherwise, they are amazing if you use them as a flavor elevating factor in your recipes. You can buy both options, which are crushed tomatillos and diced tomatillos. They are amazing at blending in sauces and salsa.
3. Gooseberries
If you're looking for a fresh substitute for green tomatillos, gooseberries are one of your best options. In fact, because of their similar sourness, tomatillos can also be used as gooseberries substitute in many recipes.
Gooseberry is also known as sour berry as it is available in the size of a cherry tomato. There are different types of gooseberries in the market, like golden, green, and red gooseberries. However, to substitute tomatillos, you should choose the green ones.
Gooseberries have a mix of the mild sweetness of tropical fruits but the savory and tartness of lemon that make them a great tomatillo alternative. However, the texture of gooseberries is similar to cherry tomatoes which are pulpy, soft, and juicy instead of firm and thick like tomatillos.
The fresh and distinctive sour flavor of gooseberries will bring a bright and flavorful impression to many green tomatillo-based dishes.
4. Green Peppers
Another possible substitute for tomatillo is green pepper. It has this beautiful yellow-green color with an interesting flavor proSle that can replicate the taste of tomatillos in many sauces and soups.
Green bell peppers are known to have a zesty, sour, and slightly spicy flavor when they are eaten raw. The texture of this mild pepper is crunchy and firm, reminding you of tomatillos texture when taking a bite.
However, when green pepper is cooked, the sourness is toned down tremendously with a lack of sweetness.
Therefore, bell pepper is a better alternative for tomatillos when you use it raw. To mimic the taste of fresh tomatillo in salsa verde, I recommend that you add more acidity and sourness to emphasize the citrusy note of tomatillo.
A teaspoon of tamarind paste or a squeeze of lime juice can easily help you achieve tomatillos' iconic taste with hot peppers in your dishes.
5. Green Chiles
As I have mentioned green bell peppers, it is unfair if I don't put green chilies on the list as they are a potential tomatillo replacement in salsa verde.
There are different types of green chiles in the market, so you need to know which one is more suitable for your taste. You can find the most common ones: Hatch Mild, Big Jim, Sandia, Mosco, and Barker.
Generally, green chiles have a fruity and hot taste with a crunchy and firm texture when being eaten raw. When working on each type, you'll find various selections to choose from to influence your chile verde result.
For example, if you're looking for a mild spiciness, it is best to go with the Hatch Mild type as it is fruity with just a slight kick of heat. If you're into a meaty texture and visible heat, Big Jim is what you're looking for. It is fruity and tasty when being used as a base for salsa verde.
6. Salsa Verde
If you have a batch of salsa verde in the fridge with no plan to use it soon, you should consider taking it out as an alternative to Tomatillos for many recipes. As it is clear from the name, this substitute is not the right ingredient when you're working on salsa verde.
The salsa has a zing and acidic taste, which is a great marinade element in seafood and meat. This Italian classic is delicious when combined with fresh cilantro, lemon juice, cheddar cheese, slices of white onion, green onions, and roasted green chilies. You can also maximize the tangy and zesty impression on many Mexican dishes like tacos, tortillas, and savory recipes.
7. Red Chiles
The chiles variation is a great replacement for tomatillos. If you don't have green chiles at hand, you can still use red chilies to mimic the sharp taste of the iconic tomatillos. As the name indicates, the color of red chiles is its disadvantage in this substitute list. Besides that, they can be a nice substitute for purple tomatillos.
Red chilies are a popular fruit in Mexican cuisine. If you leave green chilies on the trees long enough, they will become red chiles, so they have many similar traits to green chiles.
However, red chiles also have their caramel flavor that can replicate the purple tomatillos in enchilada sauce recipe and avocado salsa verde. The red chiles have a mild tartness with higher heat than green chilies. As they are ripe fruits, the sweetness is visible to the taste, similar to purple tomatillos.
Therefore, you can utilize the sweet and citrusy flavor of red chiles with the sourness of a tablespoon of fresh cilantro to mimic the tomatillo notes in many dips and green sauce recipes.
8. Cherry Tomatoes
Cherry tomatoes are our last tomatillo substitute on this list because of their similar shape. Their small size concentrates their flavor, which is bright, juicy, and sweet. If you use green cherry tomatoes, you'll find the texture of them is slightly crunchy, which is similar to tomatillo.
Although they might not have the same sourness, you can always add a dash of lime or cilantro to the dish to mimic the taste in Tomatillo dishes.
FAQs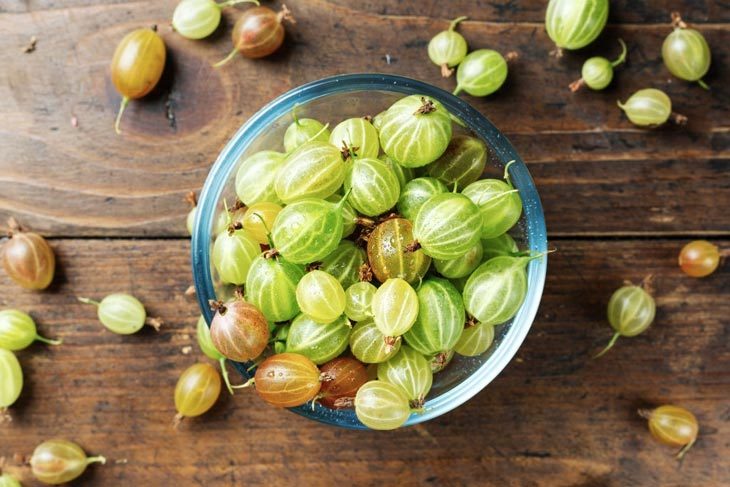 1. Canned Tomatillos Vs Fresh: Which One Is Better?
Fresh tomatillos can be used as a canned tomatillos substitute and vice versa because of their similarity in flavor. However, as canned tomatillos are processed, you can save more time roasting and grilling recipes than cooking with fresh tomatillos.
2. How To Store Tomatillos?
Tomatillos should be stored in cool and dark places to be used many times in the future. You can put them in plastic wrap and leave them in refrigerators in homes or the freezer like this freezing chili post.
Conclusion
The salsa verde is famous for the sourness and bright color of tomatillos, making them seem like a must-have ingredient for many Mexican recipes.
However, if you run out of tomatillos, you can always explore and be innovative to make a suitable tomatillo substitute to mimic the tomatillo taste and complete your dishes.