Amazing Veal Stock Substitute You May Not Know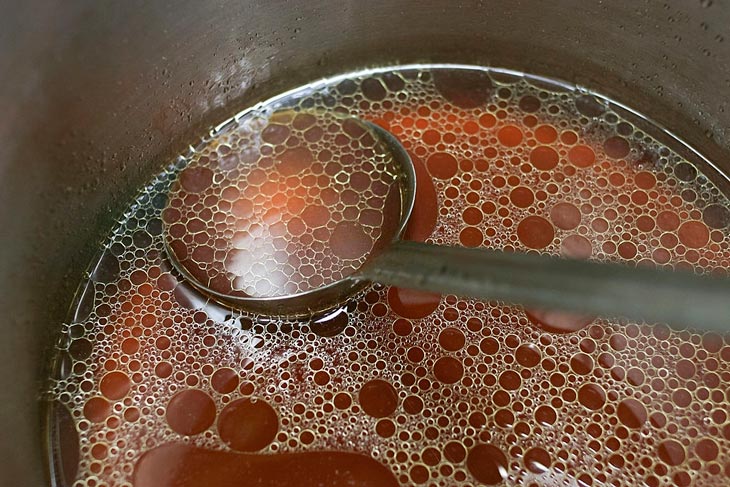 Using stocks is a great way to enhance your dish flavor with the natural taste of meat. Chicken, vegetables, and fish stocks are the popular types in the market. However, there is also a rare type like veal stock that you can find in some Mediterranean recipes.
Sounds great, right? But if you don't have it at the moment, what can you use instead? Read more to find out the best veal stock substitute in my post!
What Is Veal Stock?
Veal is expensive meat because it is produced from young bovines, which are premature calves. Because of its controversial origin, veal meat should not be consumed to prevent cruel extraction for many people.
In terms of flavor, this veal's meat and the bone stock have a soft, tender, and mild taste of delicate meat. The thick and brown gravy is also spiced up with carrots, celery stalks, onions, bay leaves, and black peppercorns to elevate your dishes' flavor impression.
You can use veal stock for your soups and stews, game stock for turkey or mashed potatoes, lukewarm stock for Italian risotto, and a great ingredient for the veal reduction sauce like bordelaine and demi-glace.
5 Best Kinds of Stock Used As A Veal Stock Substitute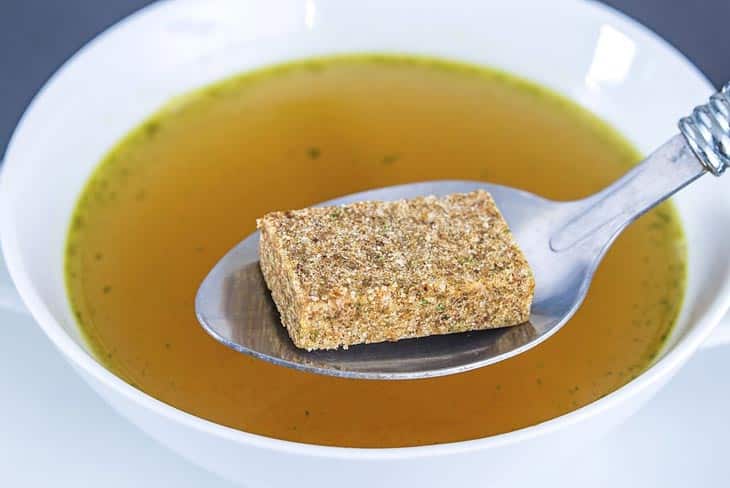 Although veal stock has a great flavor, it is still a controversial game stock to many animal lovers. So, what can you substitute for veal stock? Let's find out in my list below!
1. Pork Stock
If you have read my veal substitute post, you know that pork has amazing features of a perfect veal alternative. Pork stock can provide you the tender and mild taste that you look for in veal stock.
Although pork stock is not derived from bovine meat, this meat has many similar flavor notes to veal stock. Pork has a flavor combination of mild, tender, light, and juicy notes. The stock is also thick and brown-ish that you can use to substitute brown veal stock in many recipes like soups, stews, classic sauces, and pasta broth.
2. Turkey Stock
Another amazing veal stock substitute in soups is turkey stock. Like pork stock, turkey doesn't belong to the red meat category. However, when it is cooked for hours, the turkey stock is amazingly similar to veal stock.
When tasting it, you can find the smooth texture of the liquid flowing in your mouth. As soon as your tongue touches the broth, a mild, light, and tender flavor linger inside that you can spot in classic veal stock.
3. Chicken Stock
Like turkey, you can find chicken stock an amazing veal replacement because of its iconic flavor. It is also a basic stock in many local markets and grocery stores.
The flavor that chicken stock brings is soft, tender, and light, like veal stock. However, the yellow color of chicken stock might be a disadvantage to those recipes asking for brown veal stock as the main ingredient.
4. Beef Stock Mix
As veal originates from calves at a young age, it is easy to find beef in our veal substitute list. But you might wonder why it is not at the top as they are practically the same species. This is mainly due to the differences in flavor.
Commercial beef stock will have a similar red meat flavor, but the intensity is much higher than veal stock. As it is made from mature cow meat, the taste is strong and savory, unlike the light and tender taste of veal.
Therefore, you can mix beef bone stock with chicken stock to create a balanced mix that can substitute veal stock in many stews, soups, and wine sauces.
5. Homemade Stock Mix
If you prefer a replica of brown veal stock without the actual veal, you can also make your homemade stock with a mix of different meat types.
Ingredients
5 lbs of a turkey carcass
2 bouillon cubes
16 oz of sauvignon blanc
10 black peppercorns
4 whole cloves
4 medium carrots, large onions, and leeks
Parsley, bay leaves, thyme
6-7 quarts of water
How to do it?
Put a large stockpot on medium heat and add turkey carcass inside. Bring the water to a boil and drain the turkey out. Don't forget to wash the turkey with water to remove any coagulated blood.
Cut carrots into half, onions into quarters, and halve the leeks.
Put the carcass into a 14 quarts stock pot and add the bouillon cubes, peppercorns, cloves, carrots, onions, leeks, parsley, thyme, and bay leaves inside. Now, you should pour enough water to cover the veggies. Then bring it to a boil at high heat. Once it is boiled, you should turn to low heat and cook it for 2 hours.
Use a skimmer to drain the vegetables into a bowl. With the brown stock, you need to strain it to another stockpot. After that, clean the original pot and strain the stock back with a strainer and a damp towel. This way is to clear out any debris, scum, or fat in the stock.
Once you have a clear stock, you need to put the stockpot over high heat and cook it for 30 minutes until the veal stock reduction is at 3 quarts.
Prepare an ice bath for your veal reduction. Then strain all the stock to another pot and let it cool down inside the ice bath.
Veal Stock Recipe
If you have enough time, you can make yourself a homemade brown veal stock from the veal meat for an authentic experience.
Ingredients
6 pounds veal bones, 2-3 inches for each piece
2 medium carrots
2 onions
2 garlic cloves
6 whole cloves
8 black peppercorns
3 teaspoons of vegetable oil
Thyme, bay leaf, parsley
How to do it?
Preheat the oven to 400 degrees.
Use vegetable oil on the veal bones. Then roast the veal shanks for 30 minutes until they become brown. After that, you can put the garlic, carrots, and onions in the roasting pan until they are evenly brown.
Now, you can prepare a large stockpot for transferring the roasted veggies and bones.
You need to pour out all the oil inside and put it at medium heat to scrape out any brown spots from the pan bottom for the roasting pan. Once you have a decent amount, put them together with the stockpot.
Add cloves, thyme, bay leaf, peppercorns, and parsley into the stockpot. Pour 6 quarts of water inside and simmer the stock at medium heat for 45 minutes. Slowly simmer it for 6 hours.
Once it is finished, you can strain the stock into a pot and let it rest in cold water or an ice bath.
FAQs
1. Veal Stock Vs Beef Stock: Which One Is Better?
When comparing veal stock vs beef stock, there is a difference in flavor. As I mentioned above, veal stock is mild, while the beef stock has a strong and umami taste.
Because of its controversial meat, veal stock is rare with a high price. If you love the taste of red meat for your daily meal, beef stock is a preferable ingredient for you.
2. Where Can I Buy Veal Stock?
Veal stock can be found in big gourmet stores with a wide range of stock types. You can find the veal stock on the shelf next to beef and pork stocks.
Conclusion
Veal stock is a delicious ingredient for many soup and stew recipes. However, it is also quite expensive and controversial because of its origin. Therefore, you can easily save your dish with my veal stock substitute list to enjoy a tasty meal without overspending your budget.