What Does Chai Taste Like? A Full View of Chai Flavors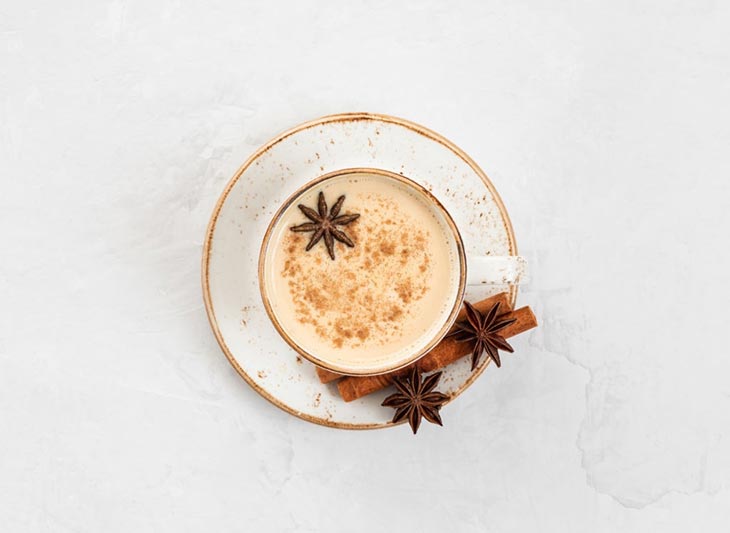 Masala Chai tea is known for its delicious taste and great health benefits from a blend of many herbs and spices.
This unique tea has won the hearts of many tea lovers all over the world. But exactly, what does chai taste like? Here's our answer.
What Does Chai Taste Like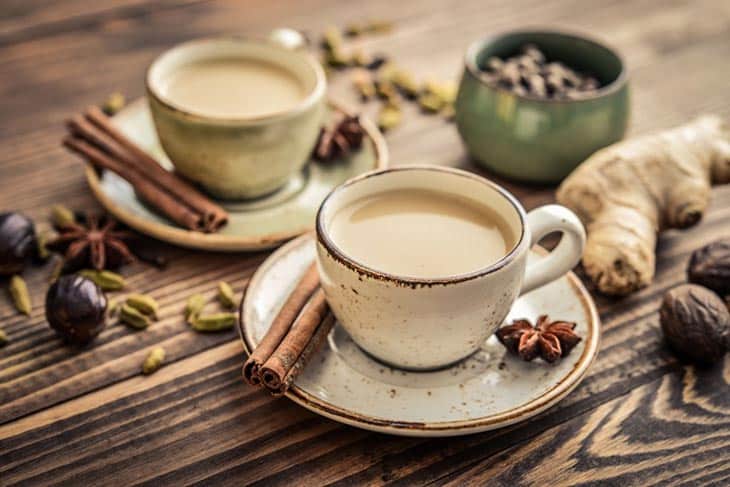 First of all, you need to know: what's chai tea?
The best tasting chai tea is a combination of black tea, ginger, and other ground spices such as cardamom, cloves, nutmeg, cinnamon, cumin, and black pepper.
Sometimes, people even add anise, coriander seeds to the composition of the tea. You can describe chai tea flavors as sweet and spicy tea with an unforgettable characteristic aroma.
Chai Tea vs. Coffee
The first difference that you can mention is the taste. While chai tea tends to be spicy, typical of the Indian land, coffee has a more elegant taste.
In popular machine-made coffees like Americano or a shot of Espresso, you'll find a hint of sourness and a slightly sweet aftertaste.
In addition, chai tea is also known to be a particularly effective method for those who are looking to cut back on their caffeine intake.
In case you don't know, many studies show that caffeine is the most consumed stimulant in the world. This substance is present in both coffee and chai tea descriptions.
While caffeine content can vary depending on brewing time, serving size, or brewing method, coffee typically contains twice as much caffeine as a similar tea serving.
For example, A 120 ml cup of coffee contains an average of 100 mg of caffeine, compared with 40 mg in the same serving of chai tea.
Due to the different caffeine content of tea and coffee, chai tea helps limit many dangerous diseases in terms of health. Also, tea consumption may protect you against tooth decay, kidney stones, and arthritis.
Chai Tea vs. Chai Tea Latte
Although they have identical origins from tea leaf, chai tea and chai tea latte taste are not the same. Unfortunately, a lot of Americans and even coffee shops often mistake them for one another.
Some of you might be more familiar with the chai latte trend through Starbucks iced chai tea latte review. But what is the biggest difference between chai tea and chai latte taste?
The answer is sweetness.
Original masala chai tea is a beverage prepared from the original tea leaves, using both hot water and warm milk.
Therefore, you can adjust the sweetness of the tea to different degrees or individual tastes. Usually, people will favor the warm taste in traditional chai tea, maybe adding a little spice to stimulate the taste.
Meanwhile, a chai latte is a popular variation for drinking chai tea. The bartender creates Chai lattes by adding steamed milk to create a layer of milk foam on top. This will make the drink much sweeter and richer than a typical Chai tea.
It can be said that, for commercial restaurants or cafes for young people, a latte will be a more popular choice because it is easier to drink and has a more eye-catching appearance.
However, if you are looking for a strong and unique taste, authentic chai tea served in a tea kettle and teapot is a great choice.
Chai Tea vs. Green Tea
Well, some people might think they both are tea, so they have to taste the same. The answer is not quite; chai tea and green tea have distinctive features that can not be found in any other product.
The key point to tell the difference is the concentration of oxidation depending on the type of tea. This is what affects the color, flavor, and taste of that tea.
Green tea is made from tea leaves processed by steeping the tea in a hot pan and undergoing a rapid cooling process.
Therefore, green tea will not be oxidized. On the other hand, Authentic Masala Chai tea is also made from tea leaves like green tea but is fermented with oxidizing yeast, and at this time, the enzyme present in the tea leaves will darken.
Both types of tea contain flavonoid, a substance that can strengthen the immune system and reduce the body's ability to get sick. However, chai tea is superior because it contains more theaflavins and thearubigins.
This is because the oxidation process converts tea polyphenols (catechins) into oxidase compounds, including theaflavins and thearubigins. Therefore, using chai tea will bring more health benefits than green tea.
What Can You Serve With Chai Tea?
Milk
Serving milk along with chai tea is not like a normal chai latte or milk tea like taro milk tea that we mentioned above. Instead, we recommend you serve almond milk or nut milk as a side drink for vanilla chai tea.
The sweetness of the milk will help balance the acrid and spicy taste inherent in the bottle. Both tea and milk contain compounds and nutrients that are beneficial for health.
Cinnamon
The unique feature of cinnamon stick lies in the essential oil and the characteristic aroma from the cinnamaldehyde in the cinnamon bark, creating a sweet, spicy taste.
Cinnamon and vanilla chai tea are the perfect combination for a winter beverage. The aroma and light acrid of the tea add a bit of intensity; the light but deep sweetness of the cinnamon powder will satisfy any diner.
Cookies
At first, everyone thought that drinking tea would help soften the sweetness of the cookies, but that is not the case. Instead, tea will help the sweetness last longer and make the cake much more delicious.
After eating a piece of sweet cake, you always want to save that sweetness. So at this time, take a sip of the accompanying tea.
The sweet taste of the cake will be deposited on the tip of your tongue so that the sweet aroma lasts longer.
Chocolate
Some melted white chocolate chips will go along with chai tea. The sweetness and creamy of chocolate will help balance the pungent taste of the regular chai tea.
Give it a try, and you won't regret it!
What Are The Health Benefits of Chai Tea?
Like many teas, masala chai is a great choice for regulating your digestive system and keeping your gut healthy.
In addition, the herbal ingredients in the tea will improve circulation and provide oxygen to the organs so that they can function optimally.
The Masala chai spices also help relieve common aches and pains and even impact more severe conditions like arthritis. These health benefits stem from the anti-inflammatory properties of many herbs, especially fresh ginger slices.
Another equally useful ingredient is black pepper. Taking it daily helps the pancreas produce digestive enzymes, creating catalysts to speed up the breakdown of fats and proteins.
When your digestive system works more efficiently, you can avoid more serious liver disease, iron deficiency, and irritable bowel syndrome.
Conclusion
Final words, what does chai taste like? Basically, you can find a new, unique and intense taste in this extraordinary beverage. Not only tasty, but chai tea also contains a high nutritional value and is very beneficial for health.
We hope you found what you need in this post. Thank you for reading, and hope to see you soon.