What To Serve With Mussels For Dinner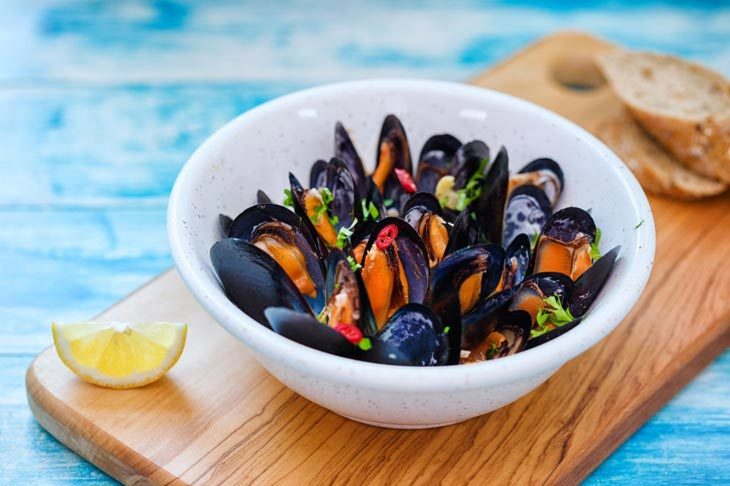 Steamed mussels are a classic type of shellfish dish that features delicate mussels steamed in butter, garlic cream, and white wine sauce.
An elegant dinner which is ideal for family evenings or special occasions can be quite boring if you only serve the same mussel dish. Fortunately, you can always elevate your mussel cooking game with these amazing side ingredients and dishes.
Let's find out what to serve with mussels for dinner recipes in this post!
What To Serve With Mussels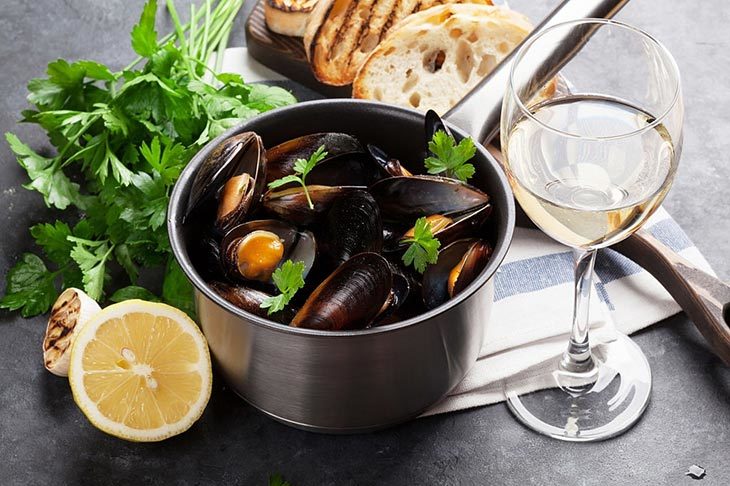 Mussels are among the most delicious shellfish available, particularly when prepared correctly and combined with the right ingredients. They tend to have a fresh scallop flavor that blends well with a variety of spices and flavorings.
In order to achieve the delicious flavor, mussels need to be prepared carefully but put in the saucepan. If there is a spot of dust left, the delicate taste of mussels will be contaminated, undermining the whole dish.
So, what to do with mussels?
The critical step in mussel preparation is to wash them immediately without first cooking.
Firstly, you need to soak each mussel gently underneath the water flow and utilize your fingertips to wipe off any extra mud.
Secondly, you can scrape the shells slightly with a brush or with a knife. Then, remove the spongy brown string that comes out of the shell sides. You don't need to do it for every mussel as people could have already washed some in the package before.
One thing you should remember is that mussels can only survive for a brief time after the thick string is cut. So, you need to cook them right after cleaning them to achieve freshness.
Here's a fact:
Mussels are super versatile and flexible food in cooking. You may cook them in a sauce or light broth, bake or steam them. Besides these choices, you can experiment with various cooking methods used to produce a stunning mussel dish.
Amongst the most common ways to prepare them is to steam them.
What To Serve With Steamed Mussels
Steamed mussels can be served as a dish alone, and they are still a great dinner recipe. However, you can always transform your classic mussels dish into a dynamic meal with these combinations.
So, what to eat with mussels? or what goes good with mussels? Let's find out the answers to your aching questions below.
What to Serve with Mussels in White Wine
Served with bread
I tend to steam mussels before marinating them in a vinegar brine, onion and serving them on bread. This provides an excellent opportunity for some carbs, particularly because carbs like bread will balance things out the complexity flavor.
Having bread with your mussels dinner recipe will enable it even more filling. Sourdough bread and garlic bread add a wonderful dimension to your mussel dish. Furthermore, you can use bread to scrape up any leftover sauces, allowing you to thoroughly enjoy the recipes you prepare.
If you want to go for a safe option, crusty bread with steamed mussels is always a great side dish for mussels.
Stuffed with breadcrumbs is another way to utilize all the leftover carbs in your pantry. Rip one shell from every steamed mussel, then cover with pesto or bread crumbs and cook it at 400 Fahrenheit degrees.
Served with beans
Rather than eating the mussels marinated in wine and tomato sauce with French fries or bread to soak up the sauce, try creating a nutritious mussel dinner by combining smooth and nutrient beans with tasty feta cheese.
What To Serve With Mussels In Garlic Butter Sauce
Vegetables are an excellent choice to go with garlic butter sauce mussels. Certain veggies complement seafood dishes tremendously, such as potatoes, asparagus, corn, squash, leeks, jicama. A bowl of fresh salad is one of the great side dishes for clams and mussels.
One thing you need to ensure is to choose the most suitable stew, broth, or sauce to mix with mussels and vegetables. It is also a good combination if you also wonder: "what to serve with mussels and pasta."
Mussels and the rich steaming sauce combine with tarragon and tagliatelle to make a decadent meal that can have an overwhelming taste of carbs and cream. That's why vegetables with their distinctive green flavor and crunchy texture can defuse and enhance your dinner complexity.
What To Do With Leftover Mussels
Maybe you had a typical delicious mussel in white wine and tomato sauce last night. However, you couldn't finish all of the mussel's mixture leftover. So, should we toss the tasty mussel food into the trash? What to do with leftover cooked mussels?
Fortunately, we can always enjoy a nice lunch from our leftover mussels. Here are some tips for you to work on your leftover cooked mussels recipes. Before that, you need to reheat them again in order to work on a proper dish, or else these mussels will get too chewy.
You can reheat them similar to reheating shrimp. There are different ways to choose, such as microwaving, steaming, pan-frying, or oven.
After your mussels are softened and heated, you can put in the leftover sauce (if there is any) with red pepper flakes and garlic. While reheating them, you can cook some linguini alongside. Once they are finished, just add spaghetti with mussels together and stir them a few times with a few ounces of pasta liquid.
FAQs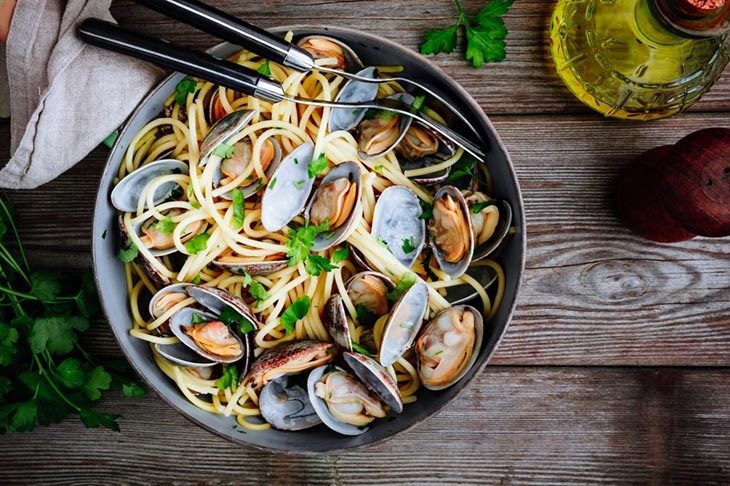 1. How to choose the best mussels?
Ensure that you purchase fresh mussels from a reliable seafood shop. They ought to have a mild sea scent that isn't overpoweringly fishy.
Once you get them out of their package, place them in a tub. Top the bowl with a wet paper towel after draining any remaining mussel liquid. After that, you don't have to give mussels any more water as this will damage them.
2. How many mussels to serve per person?
Mussels are delicious, but they are too small to enjoy one mussel only for a meal. Therefore, it is recommended that 500 grams per person are ideal for the main dinner. If you use mussels for pasta or soup recipes, the amount should be half of that portion.
Conclusion
I can never say no to a tasty mussel dinner simmered in white wine and various ingredients. They are extremely delicate and complex recipes when you know what to serve with mussels. With the right pairing and combination, your classic seafood will transform into a delicate and complex dish.